So just cast your eyes to the first pic below…
You kind of like this view don't ya? In fact you love it. You'd like to have it. It's okay you can admit it, even silently to yourself. It's fine and it's very normal you know. The cool thing is that this loved and nurtured home of ours is up for sale…. *makes little sobbing noises as she writes*
But *pulls herself towards herself*, we are closing the chapter on this housie and starting a new Chapter in an estate later this year. It's all very exciting. It's bittersweet actually because we LOVE our home and it will be sad to leave it but we are starting a new journey building a new home.
This little treasure is safe and secure, we've had an incident free 9 years in our little road. Despite that, we have the Kloof Police Station just up the road, we have electric fencing and a fully integrated alarm system.
It's a 3 bedroomed (easily convert a small study to a 4th) house with very spacious bedrooms, the entire living area is open-plan and there is a study/tv room which is small and cosy. There are 2 bathrooms with shower and bath and one guest toilet. Oh and did I mention the sauna? I run my office from home in a 42 sqm space downstairs…this can be used as a teenage pad or games room or an office! We're 2km away from shopping centres, the post office, the Virgin Active and 4km away from St. Mary's School. The Kloof Police Station is also just up the road (500m)
If these pictures don't sell this house to you, then you need to come and see it in the flesh!
Please contact me on louise@webafrica.org.za or 0829282700 to schedule an appointment. Thanks!
X Louise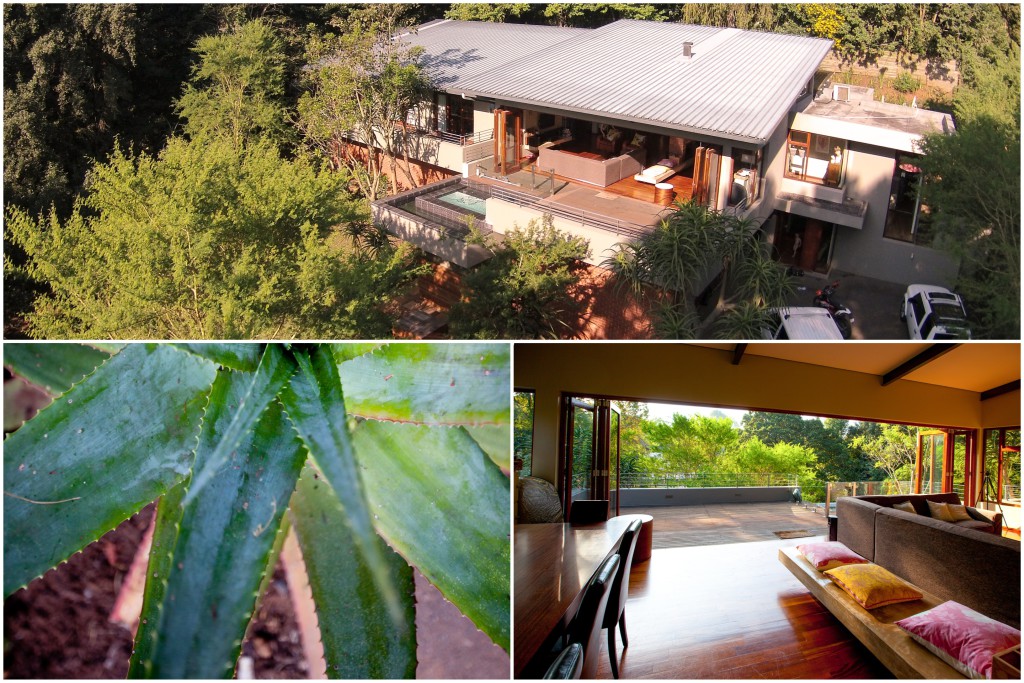 We love our house so much…we even got married here! Full of very treasured memories.
During winter, we toast our hands and fingers by the fire (there are 2 gas fireplaces, one in the lounge and one in the main bedroom)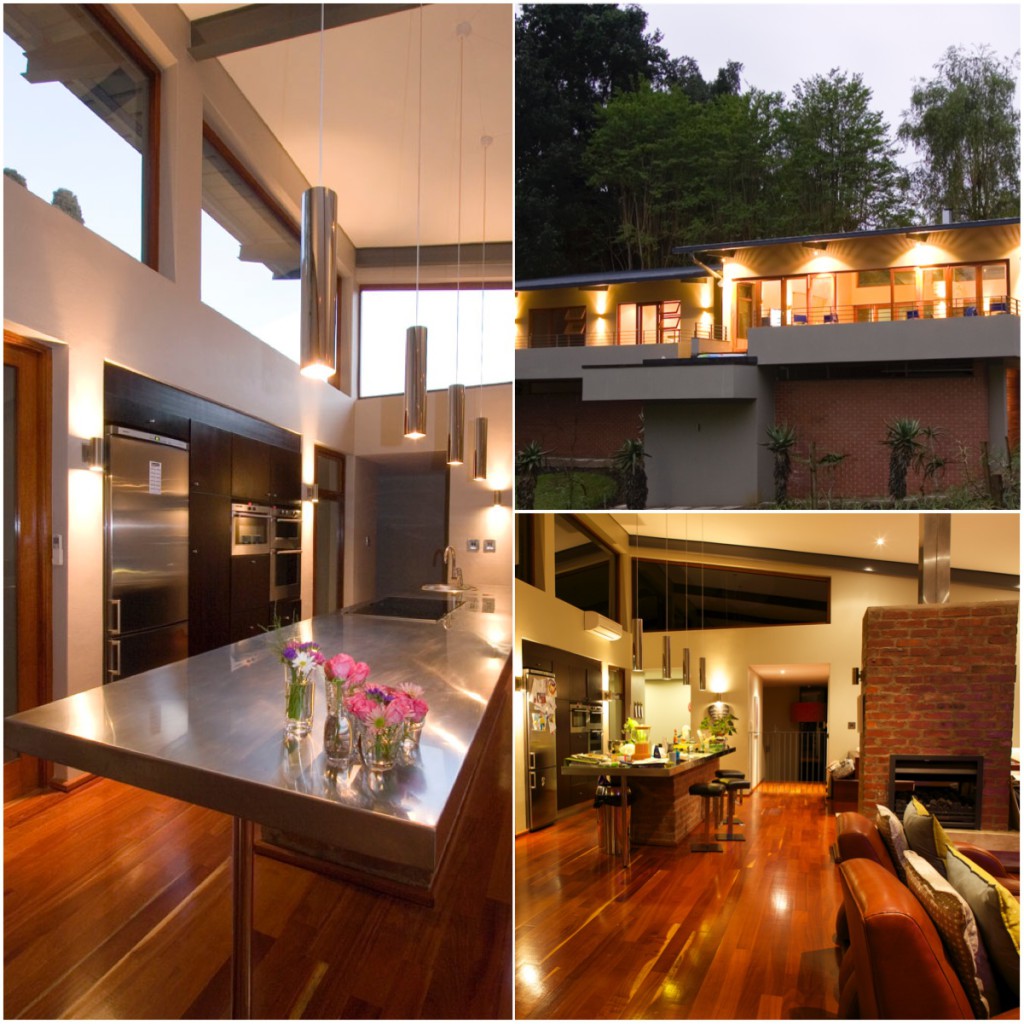 Although we're not big entertainers, this IS an entertainers paradise with open-plan living, dining and kitchen area with a front deck and plunge pool and back deck and kiddies / Chill-out area below.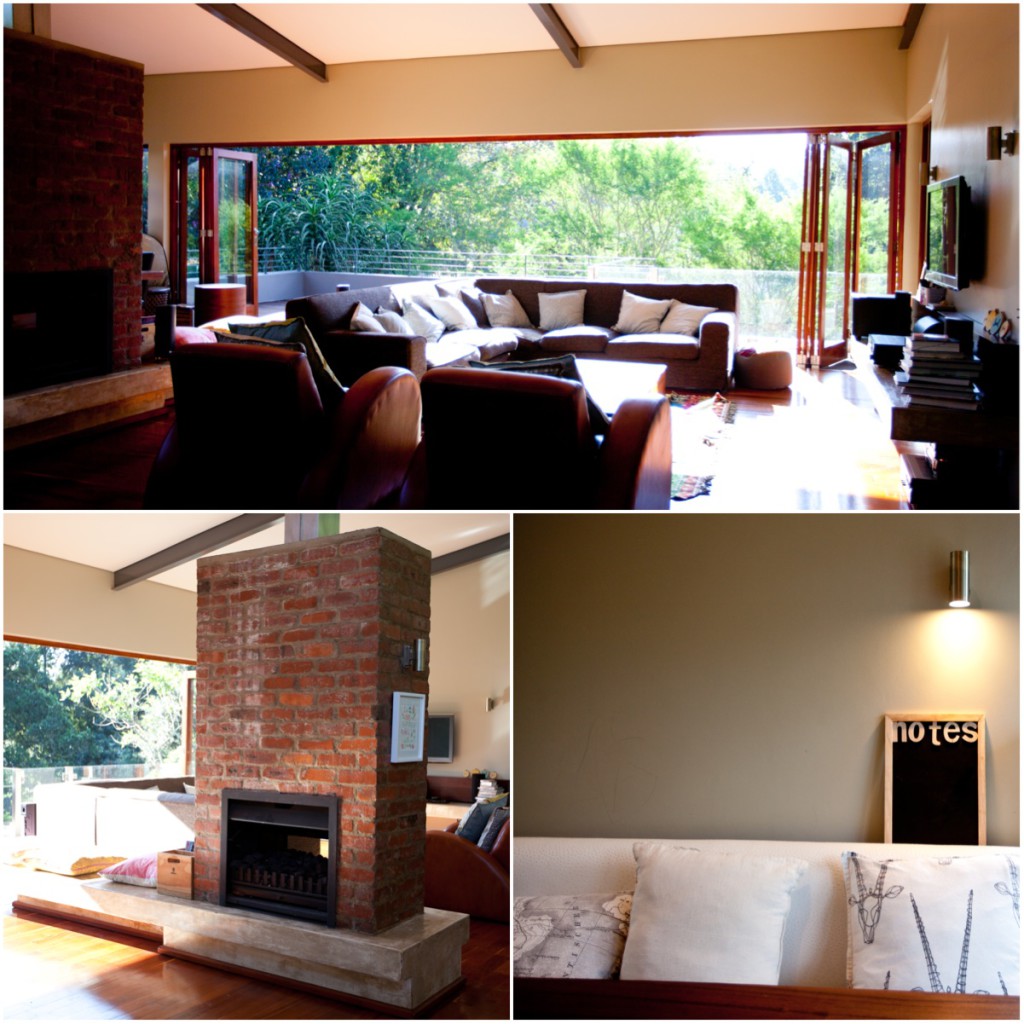 This outside area area has come in SO useful, it's the kiddies dining room, play area as well as our afternoon chill-out area. And every year, twice a year it gets turned into the boys' birthday party area.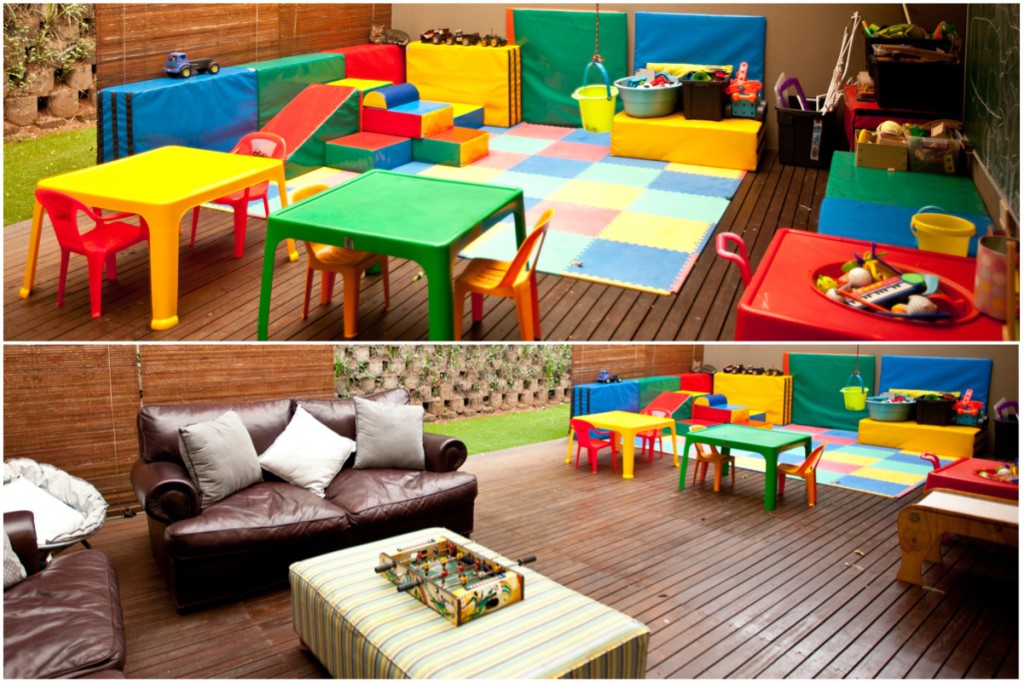 The garden – fully indigenous…lots of Aloes, Coral Trees and Acacias. The rolling lawn is also the perfect play area for Sprogs!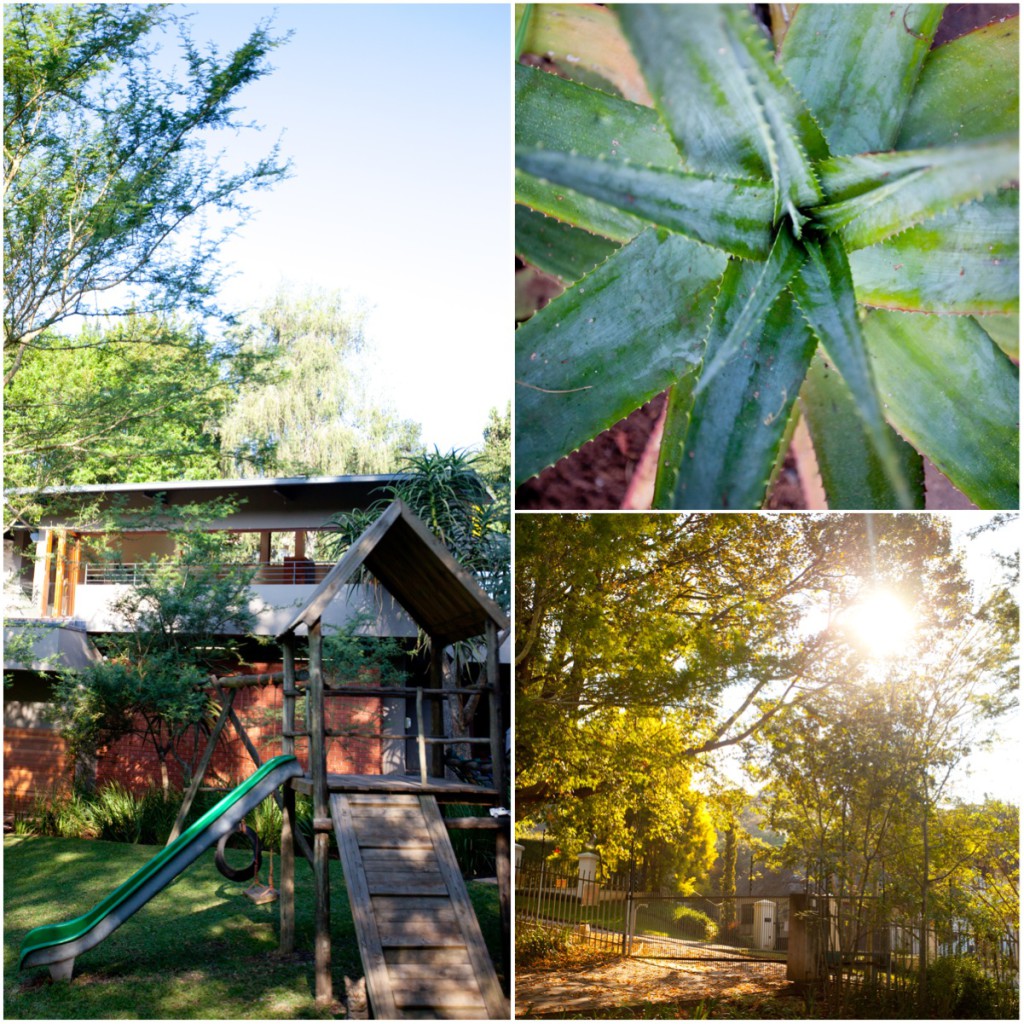 This may look like a room that no one uses but trust me we use it (and so would you!)…I just tidied it up for this shot so it looks super duper slick!  But at night, it turns into a puzzle and block-building domain with a colourful array of bridges, towers, cranes, roads and tunnels. It's the cosiest after dinner sanctuary for our little family.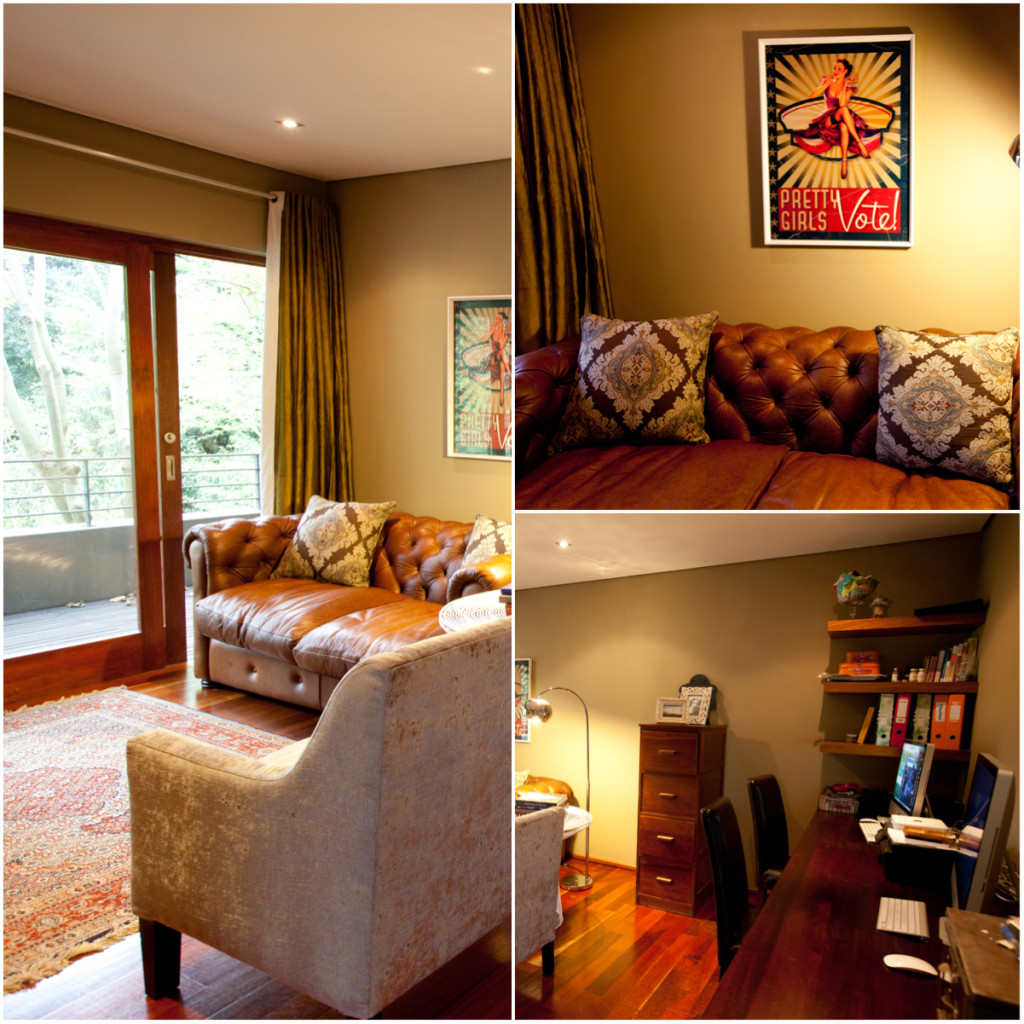 My busy little office…where all the shizness goes down. You might think it's messy but I like to call it a creative crafty space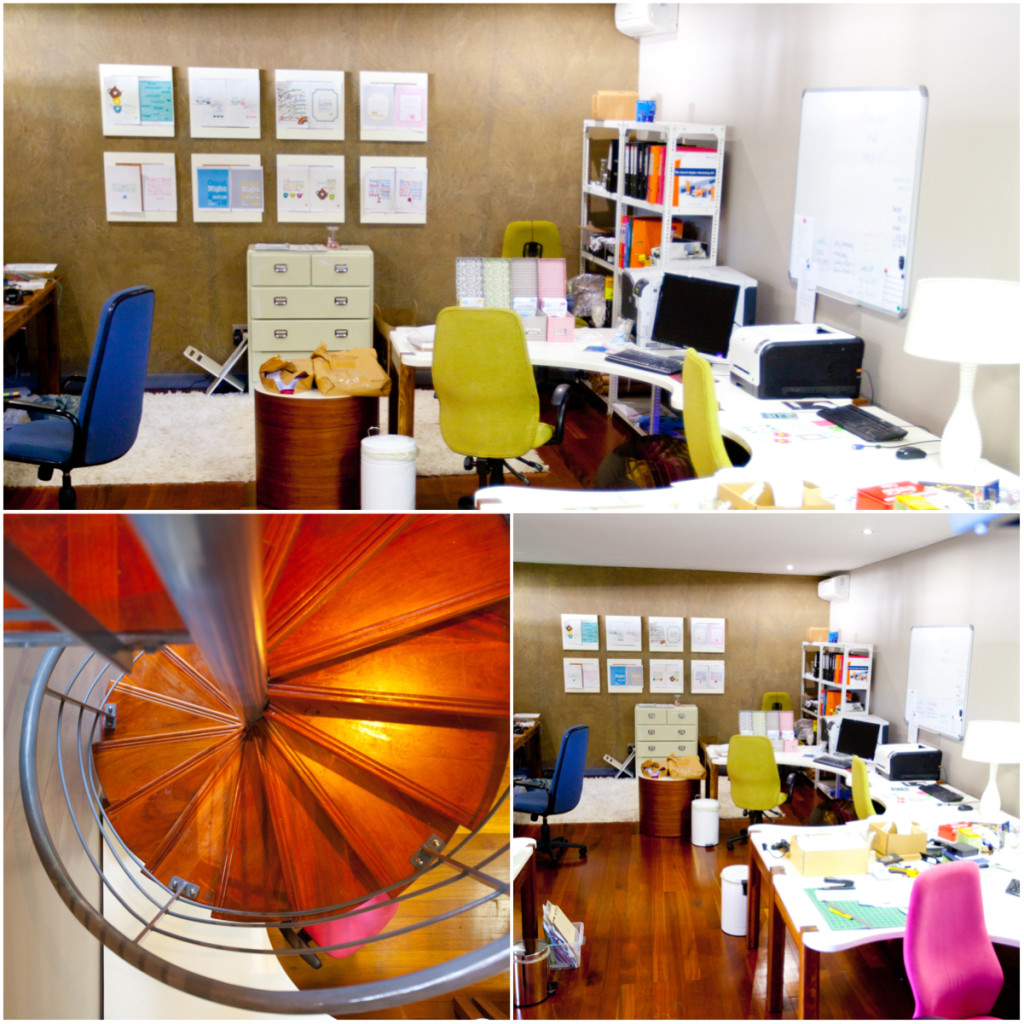 And now for the bedrooms…this one is my favourite, it gets sun all day long. And it's been the nursery to my 2 babies so needless to say it is full of a good loving feeling!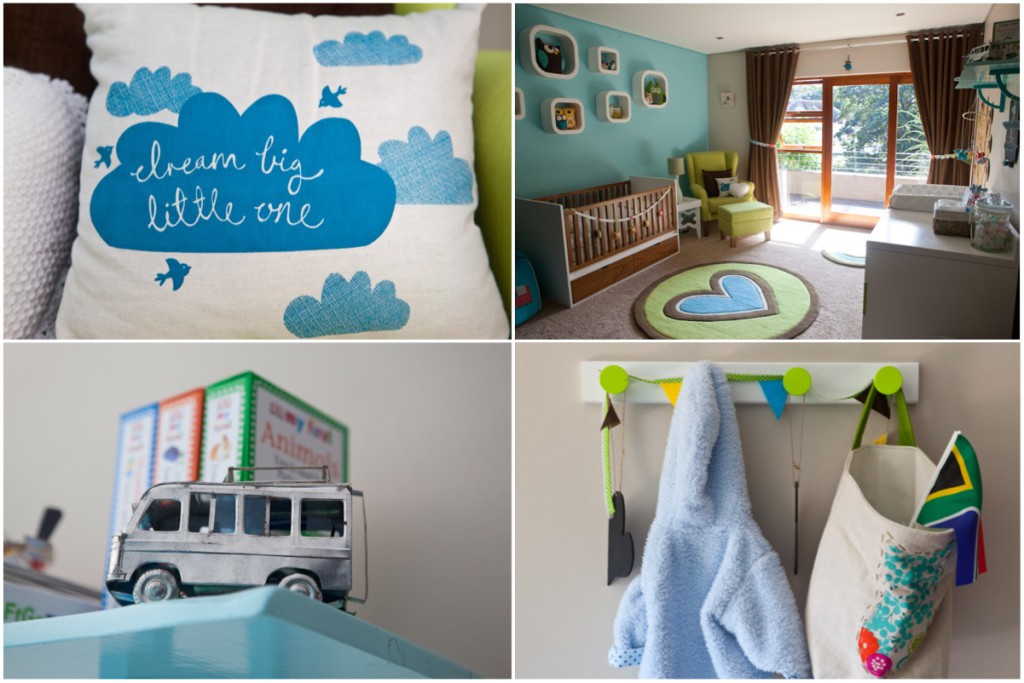 The tree and the growth chart were handmade by my hubby. I know. Those don't come with the house but I thought I'd just show them cos a.) they cute and b.) cos I can.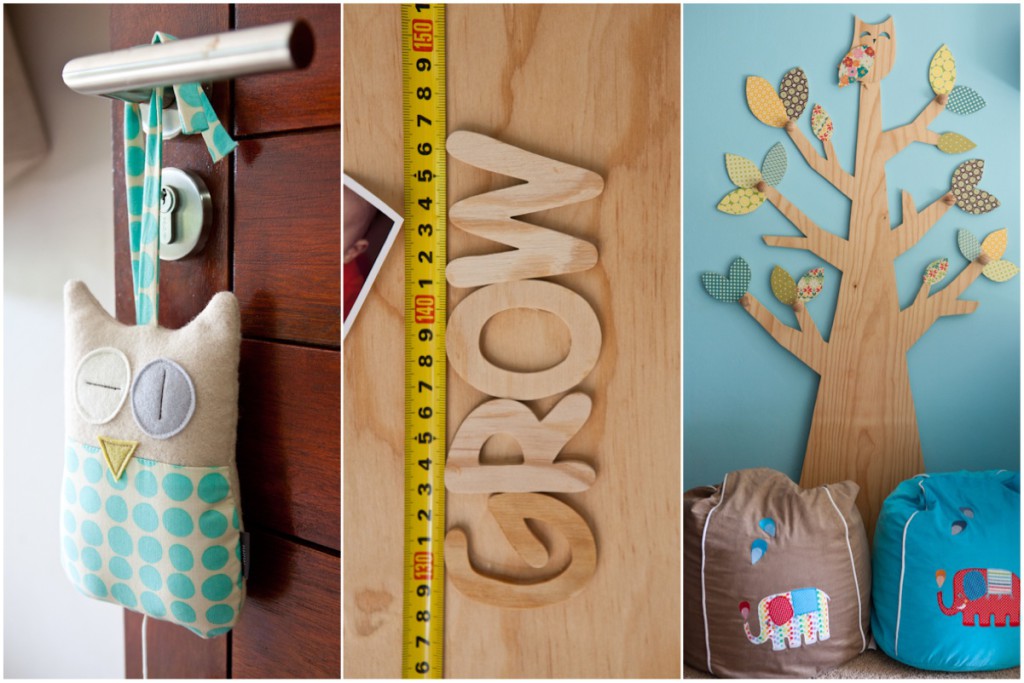 Tell me you can't feel the warmth of this space? My boys have a lot of little wise owl friends to watch over them.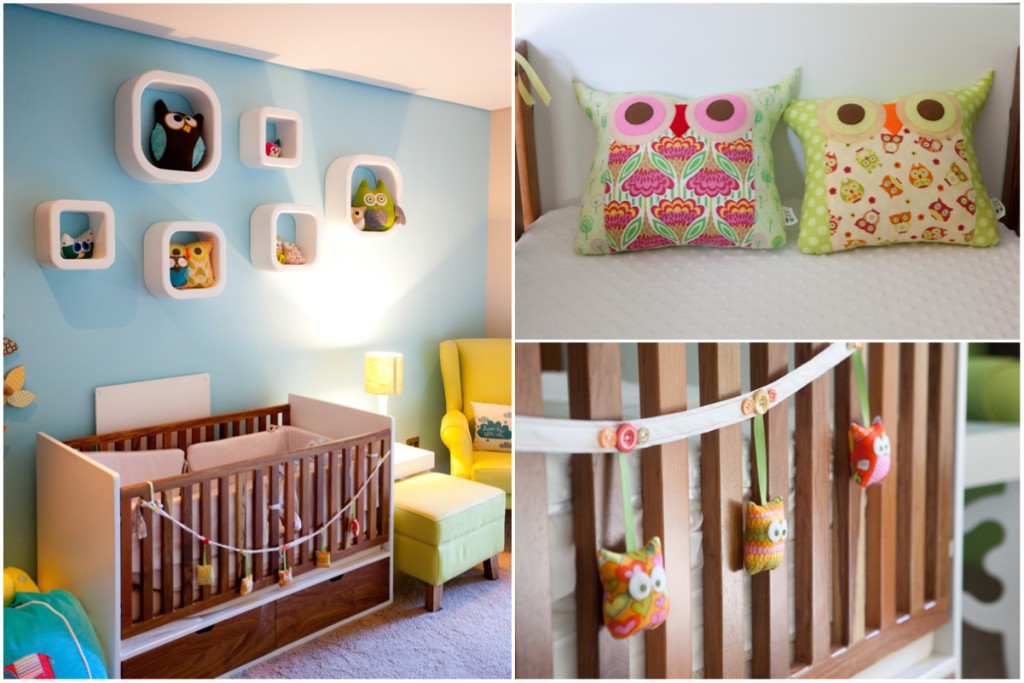 This kiddies room is full of just as much love and on many occasions both my boys sleep here together. It really is the sweetest thing. If you buy our housie you must just know that that wallpaper was a work of art to put up….and it's very very very cool. Just putting it out there….you know, just-in-case-you-had -thoughts-of-sending-it-to-live-with-Jesus (if you bought the house of course). On the other hand, if you're just reading this for fun…then just take a minute to appreciate those spaceships and robots on that wallpaper. Man is that cute or what!?!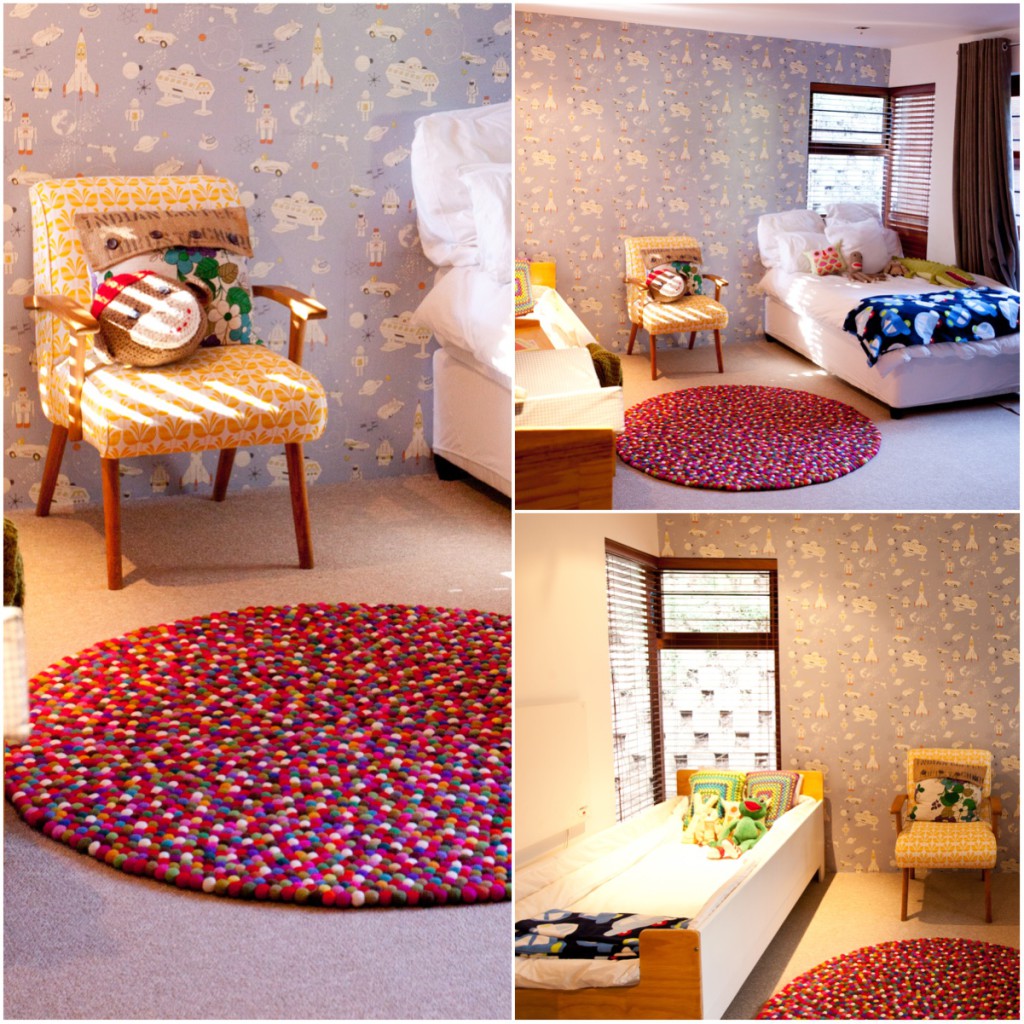 This would be the lurv shack. Beautifully styled as you can see with a Thomas the Tank Engine on the headboard.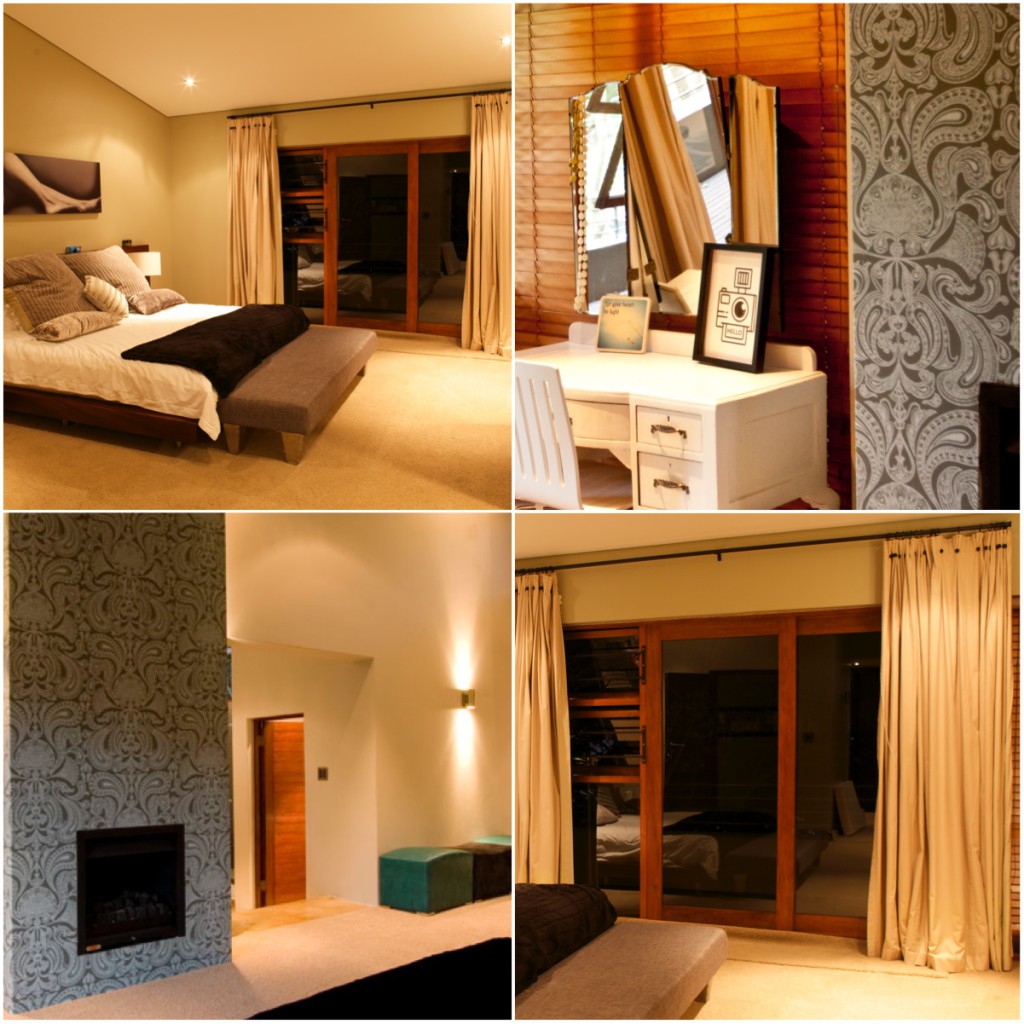 One of the things I love (and you would probably love too) is the wide passage. For us, we made it into an informal gallery with framed pics on one side and a cork board on the other side which displays anything from happy feel good prints to family pics and recipes. You could literally do ballroom dancing in this passage, I'm telling ya!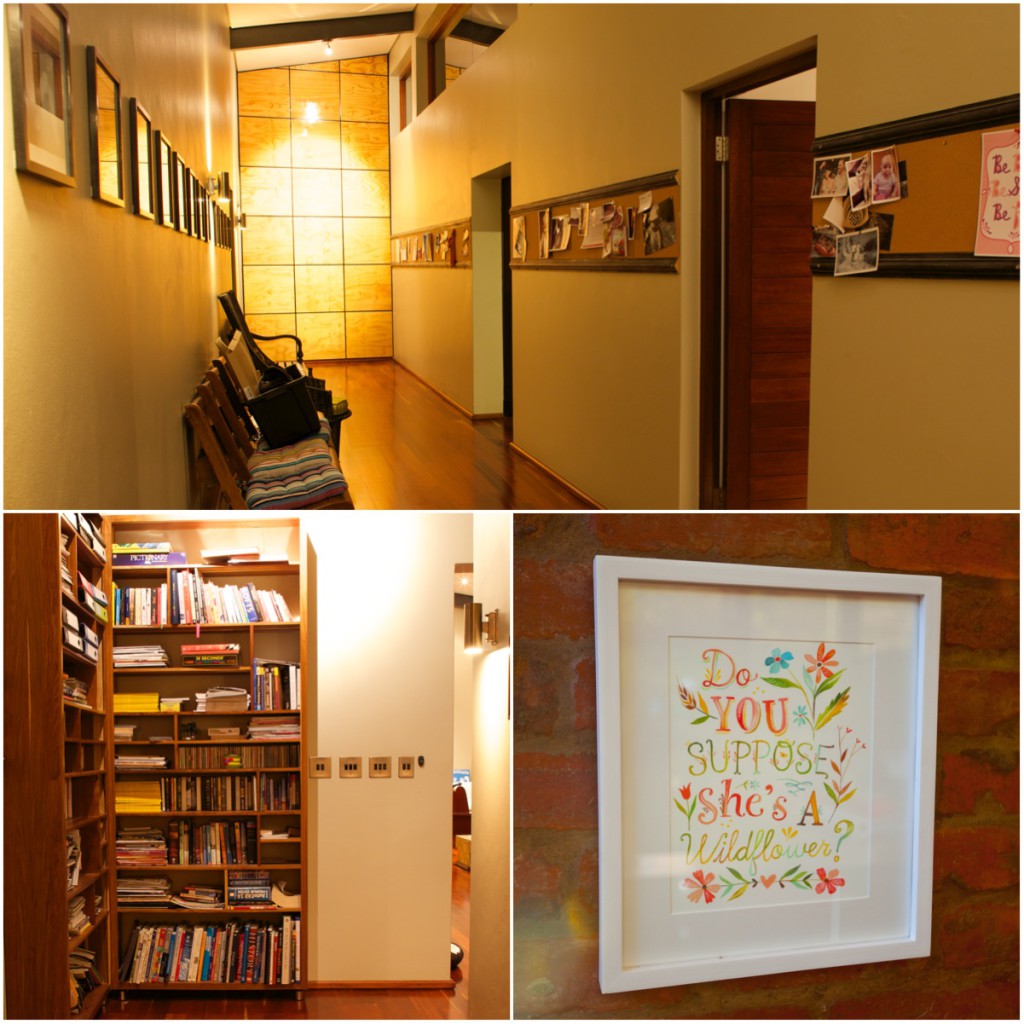 Photos from our travels, our sun-drenched lounge and a reclaimed, re-loved, re-covered armchair.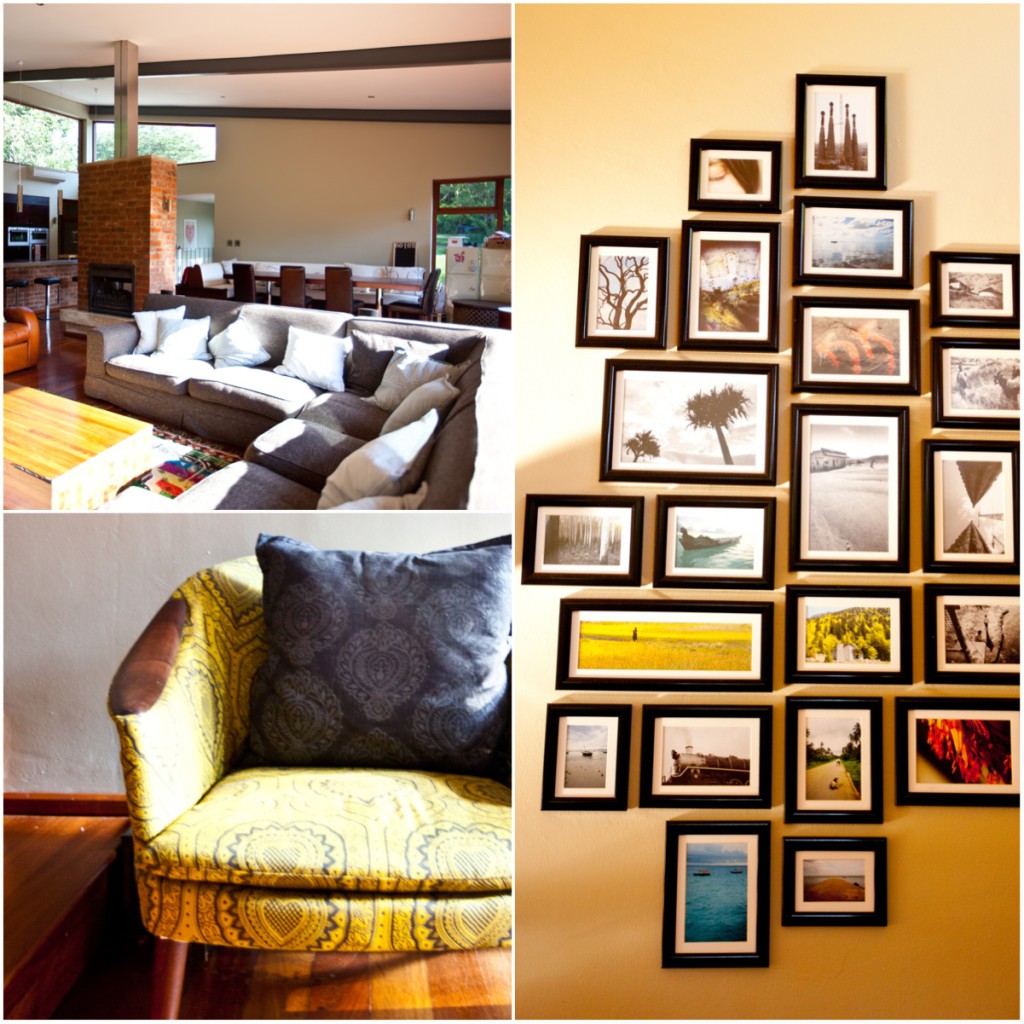 I'm certain this is the cutest little guest loo ever. My hubby made that light and oh boy do I love it!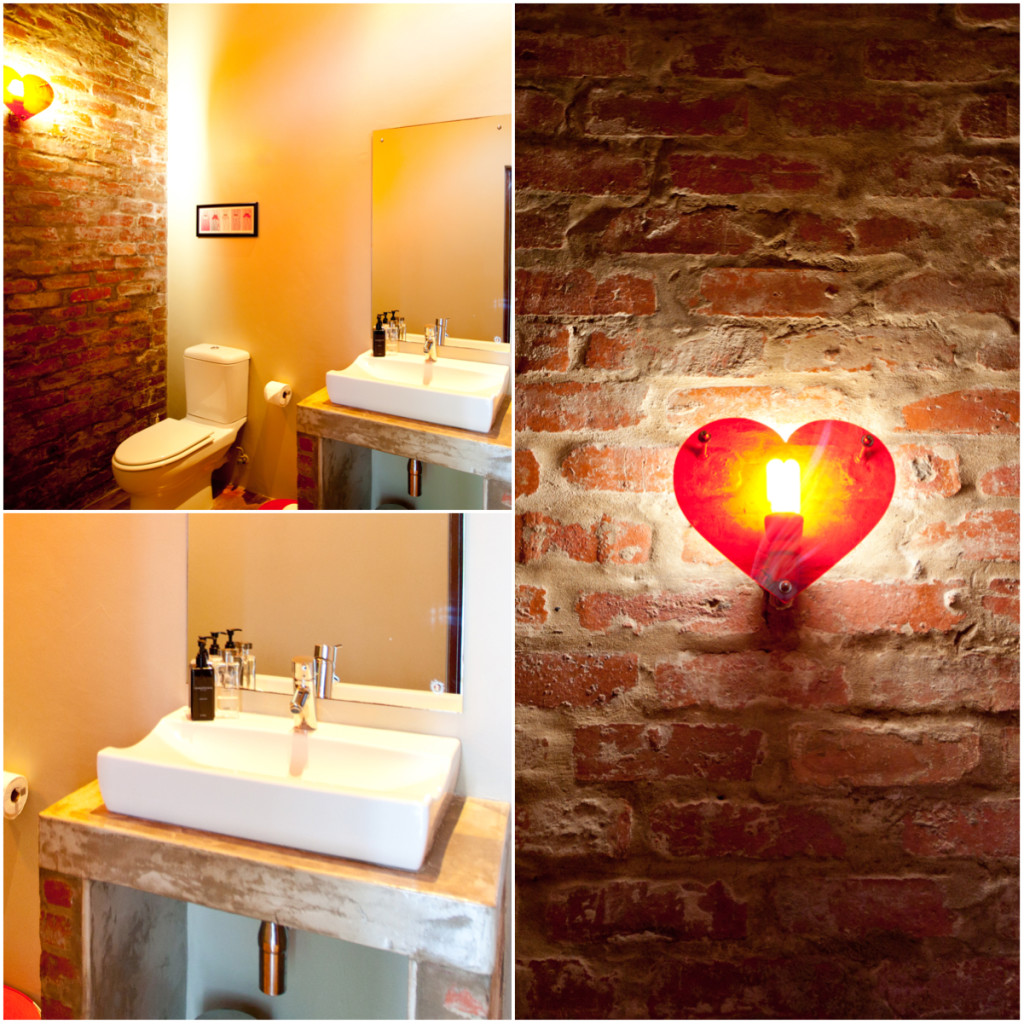 The kiddies bathroom with bath and shower and our lovingly handmade first aid cabinets (we converted them from bread bins – added shelves and painted a cross)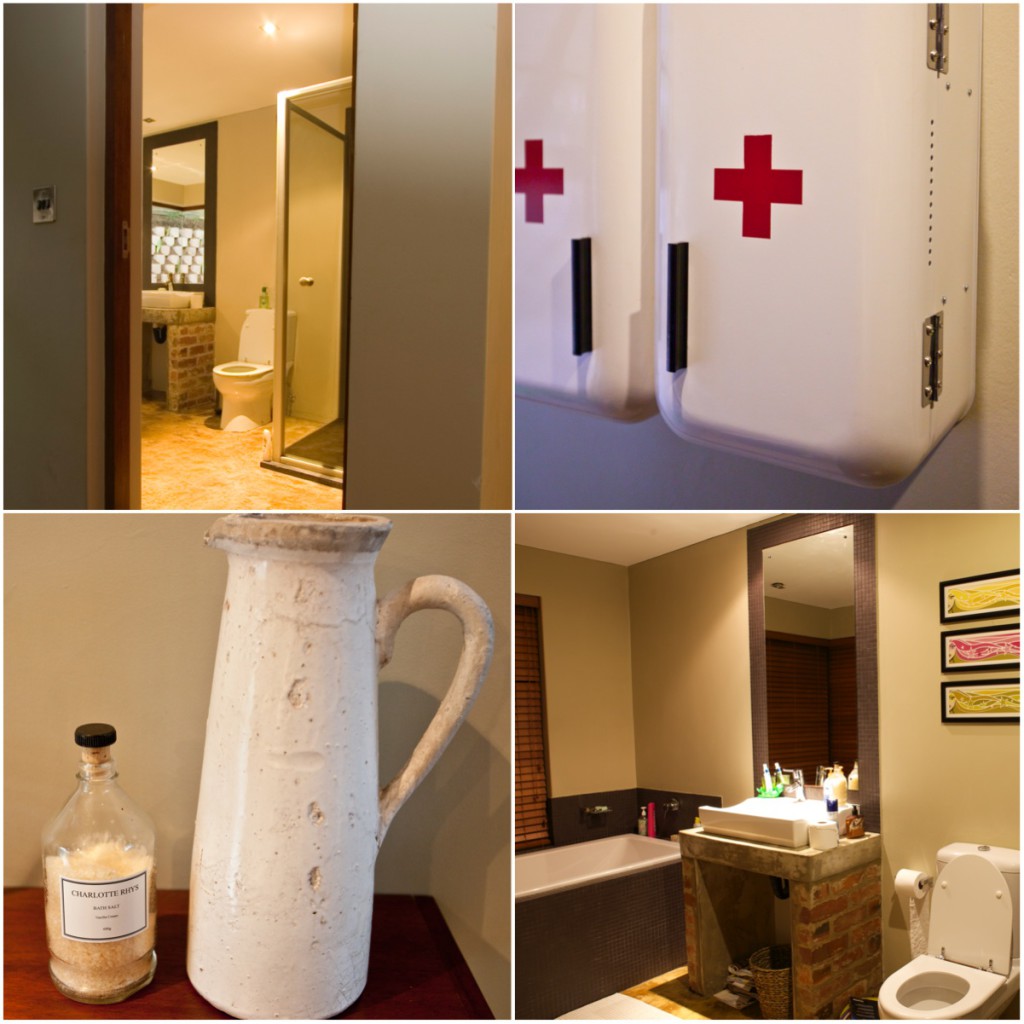 Promise you'll have sweet dreams in this house!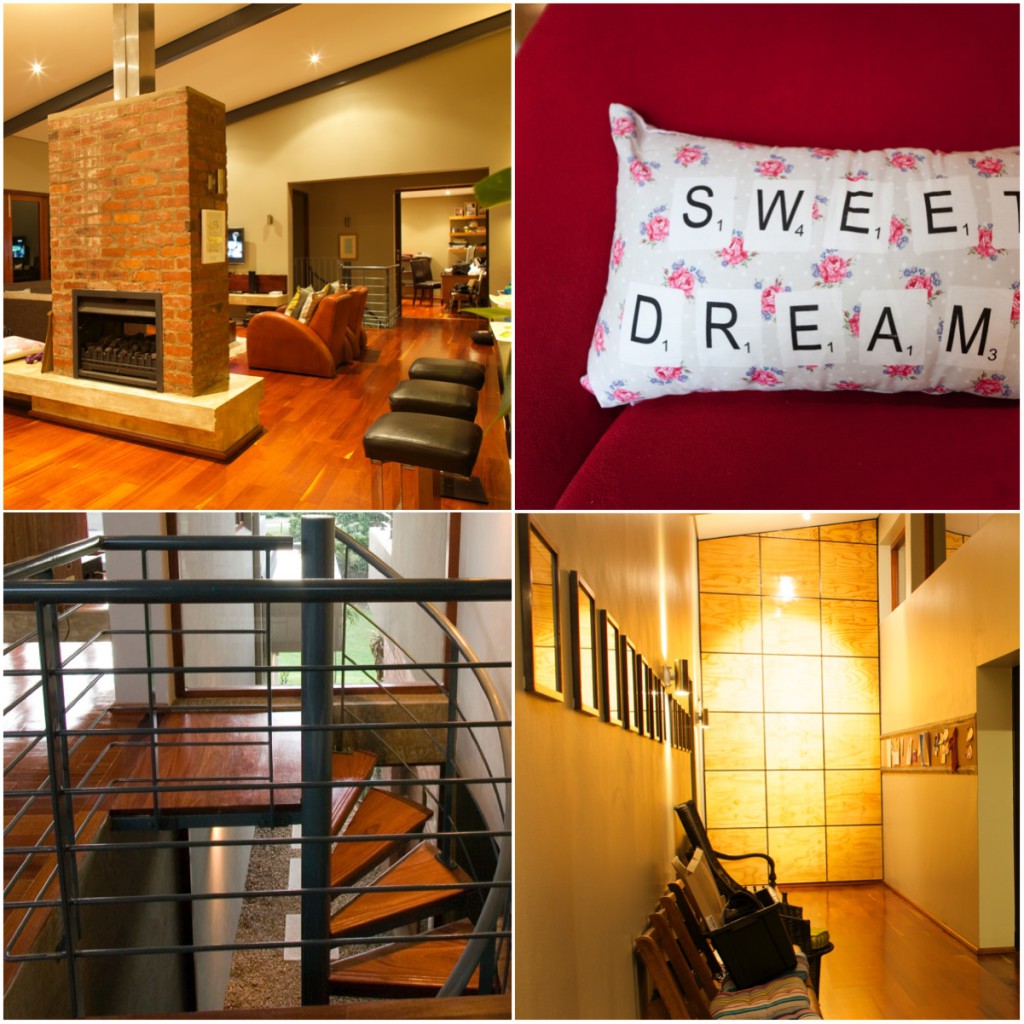 Bonus Points – my hubby's hand built sauna! Yes your very own sauna just outside the main en-suite. Can you frikkin believe it?! A sauna just for you!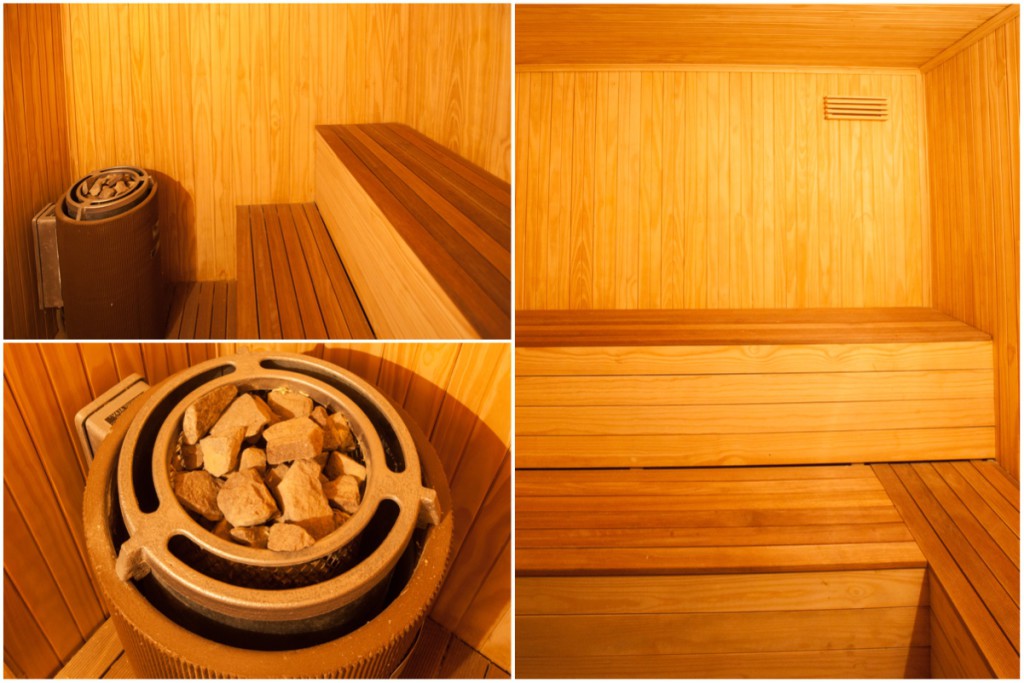 So how much is this house you ask? Our asking price is R3.795 million. Please contact me on louise@webafrica.org.za or sms 082 9282700 to schedule to view – serious buyers only please! Thanks!