Welcome to the "new look" Phuthu blog!  Usually, I try to focus on happy things but sometimes I will write about things that aren't so happy. Whatever comes into my mind actually…………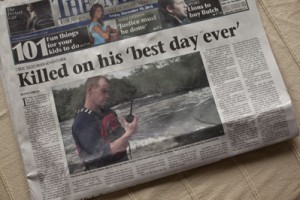 I have been thinking quite a bit this week about Hendri Coetzee, an expedition kayaker who was taken by the crocodile in the DRC on Tuesday. His body was never found, committed to the river for eternity. He was leading a group of American kayakers down a little-known stretch of white water in a wild country full of hazards at every turn ranging from bandits to corrupt officials to dangerous river creatures to  treacherous unknown rapids. The list doesn't end here.
I had never met Hendri but I knew him well. He is me in my dreams,. He was a man who lived a life of adventure that I and many others only dream about. He had the courage to follow his insatiable pursuit of "the best day ever". He was humble and brave and he was an incredible writer with a deep insight into life that few of us have. He shunned the accumulation of material possessions in favour of the intangible. The intangible and unexplainable feelings of experiencing and succeeding at such ambitious, dangerous and intimidating adventures.
The irony here is that although though he lived a life of great risk, no-one ever imagined he would die. He was supposed to be immortal, just like we are in our dreams.
Here is a touching tribute from Celliers Kruger, a friend and sponsor of Hendri's.
https://docs.google.com/View?id=ddb8g8h4_35drm5h8gq&pli=1
RIP Hendri, I hope your new adventure never ends.