My friend Shirley has been nagging me for months, "have you got your world cup tickets yet? nyagga yagga yagga" . I haven't been sure about how I felt about FIFA and this whole thing up until a week before kick off. The world cup fever was contagious and it was the widespread show of flags and patriotism that made me decide that the World cup was good for the country, perhaps not financially but certainly in other intangible ways. The way in which it has made all South Africans feel proud and patriotic is a success in itself. For the past few weeks, we have been able to almost reach out and touch the energy in the air.
So, on Monday afternoon, Shirley unleashed another round of nagging on me, "are you going to the game tomorrow? Go to the fan park, go to the stadium, go to Florida road, nyagga yagga yagga" Just as she left and peace and quite returned (lots of love Shirl) I get an sms from my other mate Jess, "tickets for game tom, going fast"
"I'll take them!" I said. First thing the next morning I went on the hunt for earplugs and earmuffs. (I planned to double up to make a vuvu-proof barrier).
We left nice and early, I packed up hungry bum (Lou) and she packed up baby Shewy (that's our unborn baby called Cashew, shortened to Shewy). Jess, being the big larney that was in charge of building the stadium, chauffeured us to seeded VIP parking right next to the stadium. It has to be said that the stadium is a marvel of design, engineering and construction; it is truly one of the best stadiums in the world.  Sitting up in the stands looking out onto this impressive sight, Jess must have been very proud of what he and his team have achieved.
The stadium is breathtaking.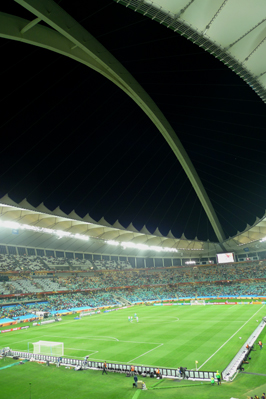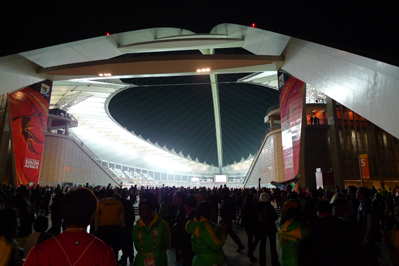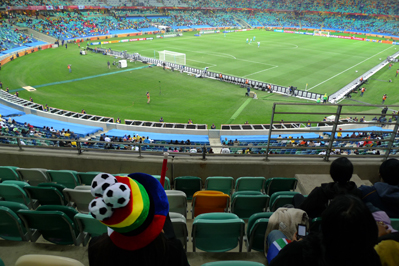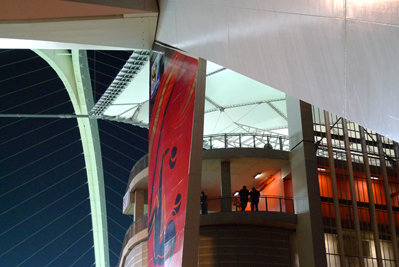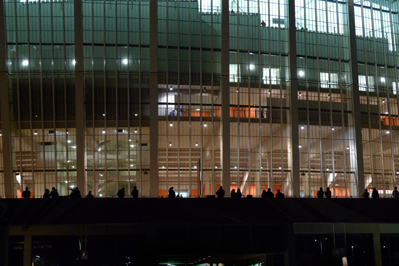 Jess at one of his site meetings.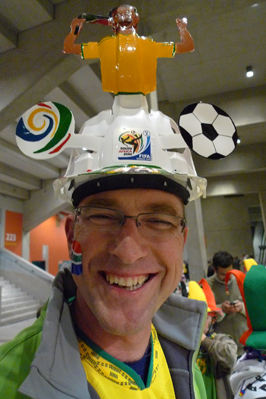 What followed was a great new experience, the atmosphere was amazing. (So was the noise, we were very grateful for the double barrier ear protection.)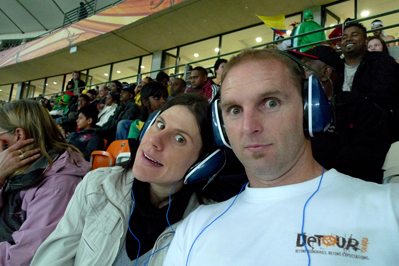 The noise was incredible, the vuvu is some thing of an anomaly, you've got to hate the racket it makes but you've also got to love the character it brings to a game.  I learnt how to blow one and I think there must be some sort of primal satisfaction in making such a noise. You can blow it till you are blue in the face without anyone looking at you funny!
I was clever enough to bring my own personal beer fetchers.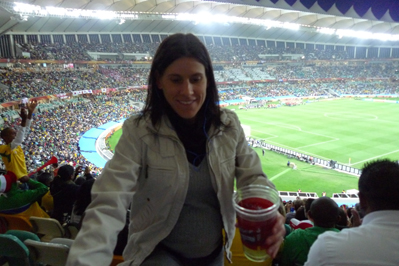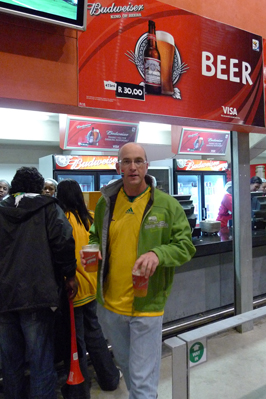 Lou said Shewy, now 22 weeks old, was kicking like mad, I'm sure he just wanted to get on the field and show those players how to really boot that Jabulani Ball!
The result didn't matter, today I don't even remember the score! All in all it was a great experience, thanks Jess and Co; our next mission is to visit a fan park!
By Jeremy