As if I hadn't already ridden enough this weekend, 4 hours on Saturday, 3 hours on Sunday doing the Dusi Mfula mtb race! Miss preggie snowflake decides that it was just too much watching all the mountain bikers on Sunday so she needed to go for a ride too. So on Sunday afternoon, my aching old ass was dragged off for my second ride of the day. Summerveld is a lovely horsey area which is perched on top of a hill, it boasts a rather strange mix of mega mansions and tiny little two bedroom houses alongside one another.
Nevertheless, its a lovely area to ride and is frequented my almost every mountain biker who lives in the upper highway area.
I took a camera as I knew that there was always fantastic light up there on most afternoons. During our ride, we rode through this beautiful wooded area where Lou took this winner shot of me riding. I wish I could claim to have taken it! (on self timer)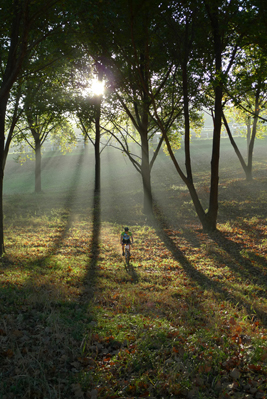 All in all it was a perfect ending to a perfect winters day in Durban.