Fathers, husbands and kids of all ages, listen up! It's Mother's day on Sunday, so why not do something that she will really appreciate. Flowers are sweet and generally the easiest option, but why not go all out this year and make mommy some breakfast in bed?
We have put together an easy recipe that won't have the kitchen burning down or mom having to clean up the mess afterwards (by the way, cleaning up afterwards still falls under the Dad/kid duty on Mother's Day).
All you need to do is-
Get your ingredients ahead of time……..
Ingredients:
8 slices of bread (keep it healthy and use brown or whole wheat)
50g butter, melted
8 large eggs
Punnet of baby tomatoes
2 spring onions, chopped
Salt and pepper to taste (don't overdo the pepper)
50g grated cheddar cheese
Freshly chopped mixed herbs
Variation:
Replace tomatoes with sliced fried mushrooms
Fried bacon can be added to the filling too (make sure you fry it first)
And cook like you have never cooked before……..
Method:
Preheat the oven to 180'C
Remove crusts from bread.
Butter each side of the bread and place into a muffin tray
Break an egg into each bread cup
Arrange the tomatoes, bacon, spring onion and seasoning on top of each bread cup, being careful not to break the egg
Bake in the oven for 8-10 minutes or until the bread is golden brown and the eggs are cooked.
Remove the bread cups from the muffin tray and sprinkle with the mixed herbs
Serve immediately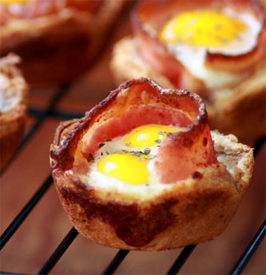 To all moms out there, we hope that you have a fabulous time on Sunday and that your family will be at your beck and call, listen to your every whim and treat you like the Goddess that you are. You deserve it!
Happy Mother's Day