I went to Pinetown Boys High School (yes I'm admitting that in public!) We had an insanely extroverted, fun and definitely certifiable art teacher, a Miss Johnson. At our school we had an ancient disused darkroom which she helped me to get permission to use. The equipment was old, the paper and chemicals even older but I eventually figured out how to do my own black and white printing. Watching the image slowly appearing on the paper in the bowl of chemical developer was really exciting!
In my matric year, one of our projects was to paint/draw/photograph life in Durban city center. So one day, a friend and I caught the bus into town on a mini artist's adventure. Armed with my new camera bag my mom had just bought me and my old Pentax Spotmatic I was ready! We spent the day wandering around town and it turned out to be one of my most productive days out. Below are some of the images I got that day.
This picture remains one of my favourites to this day although no-one else seems to like it. I love the composition, how it's divided into thirds, the different textures and the point of interest in the fisherman.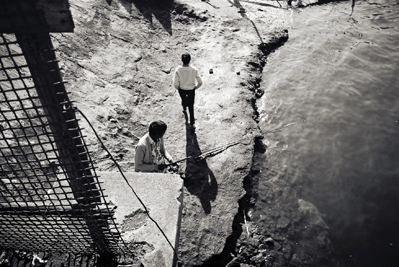 This one is also one of my favourites. In those day's no-one seemed to mind the taking of photographs in the harbour. I don't know if it was allowed or not but I snapped away merrily anyway….I love the depth of field and the bold outlines of the 2 guys.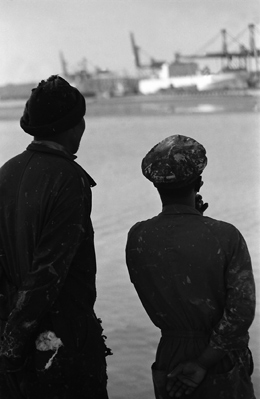 This one was taken in the centre of town of  part of the old station which has been restored and I think is now part of the Tourist Information Centre.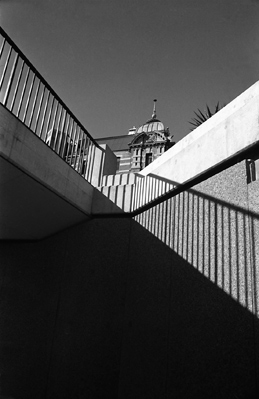 It was days out like this which really motivated me to take more pictures, as a rule, if I got one image out of a roll of film that I thought was really good, I had had a successful day.
It was the definition of a "really good image" that was to become a stumbling block later on. What was a good image? I still cant really answer that question.
More about that next week……..