I'm sure we can all appreciate the thankless work that the SPCA does in our country. Despite being an underfunded and many times, understaffed society, they usually do a good job at caring for animals. So it's disheartening to hear of a case like this, where the actions of an SPCA inspector are grossly incongruent with what the SPCA stands for.
Our friend Katrine has just recently had a traumatic encounter with a crazy lady and an even crazier man, all in the hopes of removing a sweet little dog, Bella, from the hands of her negligent owner.
We will let her tell you the story………
I found a black female sausage dog (without a collar) running around on a very busy road in Padfield Park on Saturday the 16th of January. I stopped and picked her up as I was worried about her getting run over, and took her home with me. My fiancé and I went back to Padfield Park, to the same road where I found her, and rang 10-15 doorbells in the area. But no one recognised or claimed her. We went home and called the SPCA, but they were closed. So I went back to the area again, where I saw a notice saying 'black female sausage dog found' – and I called this number and spoke to a lady named Lauren – who had found the same dog a few weeks earlier. She informed me that this dog has been in and out of the SPCA many times and is always running around in the road. She did not know the owner's name, neither did she have her details. I subsequently called the SPCA for advice. They took my name and number and said they would let me know if anyone called and reported her missing.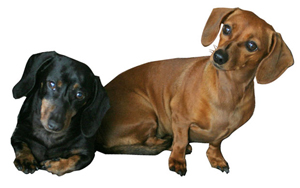 Bella(left) and Sophie(right)
I kept the dog safe at our house and she quickly became part of the family and bonded with us as well as our own sausage dog Sophie. I kept looking for notices that might have been put up in Padfield Park, but there was nothing. I never received a call from the SPCA either.
3 weeks later, on Friday morning the 5th February, I received a call from a lady called Cathy – who got my number from the SPCA. I was surprised that the they had given Cathy my number, instead of looking into the matter themselves and calling me about it first. Cathy wanted the dog back but I told her that I would deal with the matter through the SPCA – as I was reluctant to return the dog to an 'owner' who didn't care about her enough to start looking for her as soon as she went missing.
I had called the SPCA four times on Friday the 5th February and spoke to two people, one of them said an inspector named Steve White would call me back with advice. Needless to say, he never did, so I decided to go and see him on Saturday morning (6 Feb).
When I arrived at the Kloof SPCA Cathy was also there. She didn't thank me for caring for her dog for 3 weeks, and her excuse for not looking for her dog earlier was 'being away, moving house, working full-time and being a mother.' If my dog Sophie went missing I would roam the streets searching for her, put up posters everywhere, call the SPCA immediately and pop into the SPCA and all local vets 3-4 times a day.
One thing led to another and Cathy eventually accused me of 'taking her dog', even though she had obtained my number from the SPCA and I was now standing there at the SPCA trying to sort this matter out. If I was stealing the dog I would have never called the SPCA in the first place! During this tirade, I found out that Bella had been to the SPCA three times before, and she has a brother too who had also been missing until recently.
I could see that the matter would not be resolved by speaking to Cathy alone, so I looked to the SPCA for help.
We were sent to chat with Steve White, the inspector who had not returned my calls previously. He spoke to Cathy first, then me. From the minute I walked into his office I could see that he was not interested in investigating the matter further. It was obvious that he did not have the dog's best interests at heart
Steve then told me that because Cathy owns the dog, I need to give her back. He also said that if I had followed the correct SPCA procedures, the dog would have been mine by now. This was news to me! The procedure was that I needed to have handed her in to the SPCA straight after I found her, and I could have adopted her 7 days later had the owner not been there to claim her- which she obviously wasn't. I was devastated that nobody had informed me of this, Steve's response to this was 'to take it up with my manager.' When I asked why he hadn't returned my urgent calls the previous day his reply was 'I am busy trying to fight off an Animal Rights group who's trying to get me fired.'
I asked him to ask Cathy to give me proof – perhaps a photograph of her missing dog. But Steve reported back that she didn't have any. 'Who doesn't have a photo of their dog after 8 years,' I asked. 'Well to be fair, I don't,' he replied. Once again he urged me to give Cathy back her dog and once again I was reluctant.
Steve called me later that day (Saturday 6 Feb) and said he had inspected Cathy's property and that it was safe. Apparently this was a new place she had moved to within the last couple of weeks, so all the problems related to Bella going missing before have now been rectified. Steve then said that I must return the dog to him the following morning at 6am, Sunday 7th February. So once again I pleaded my case, but he was rude and put the phone down.
During the whole of Saturday 6th  February Cathy kept sending me threatening messages and on Sunday morning she went to the police and charged me with theft. She accused me of stealing her dog! The police came round and fetched Bella, saying they would take her to the SPCA and that the matter would be sorted out there. But the police handed her over to Steve, who handed her over to Cathy.
My fiancé, his mother, Lauren (who found Bella on the road a few weeks earlier) and I all tried to call Steve to convince him to do the right thing and keep Bella at the SPCA while further investigation into the matter took place. But he was extremely rude to all of us and ignored us completely. As if this is not enough, Steve said that the SPCA had nothing to do with the matter and it had to be sorted out between the two parties concerned. My question then, is: why did he get involved in the first place?
As far as I am concerned he does not deserve to be in a position where his job is to protect animals, and the fact that he has been involved in similar incidents before, only strengthens my belief.
I am a journalist and feel the public deserves to know about this. The matter will go to print unless something is done about removing Steve from his position.
By Katrine