You are probably wondering what we can possibly challenge you with this late in the game. Let me assure you, we do not run out of ideas, us girls. Our challenge to you is to actually stop scrolling around aimlessly and get into action mode.
What do we want from you?
A photo of your Christmas tree.
That's it. We want a photo whether it's an OTT traditional tree with santa's and raindeers, a tiny plastic tree from Game (one of those whose branches you have to "fluff up" to make it look like a tree), an abstract triangular work-in-progress, a real (decorated) tree in your garden, a bare branch featuring some African decorations or a wooden art deco tree.
C'mon man, work with me. It's easy. Click > Download > Email.
You can do it, you know you can.
This is a competition with a twist. A competition in the sense that you have to enter your tree to have it appear on our page, but there is no prize. That's way too much admin for this time of the year. We're just not up to it right now. Sorry.
So make us happy and send in those pics, pretty please.
Elzet > Ok, so here is mine: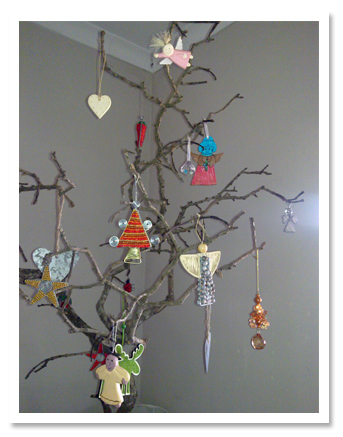 As you can see, I didn't get a professional photographer in to take the photo. Sorry. It was supposed to be spray-painted white, but I just couldn't wait to get it up! My daughter, Kristin (3) reckoned that this was the most beautiful Christmas tree ever, until she realised that all the other Christmas trees have leafs. So now we're having a little lesson in individuality.