Baking cupcakes is something very close to my heart and so when I read about Le Dolci, a London-based business that offers baked goods by subscription, I thought what a wonderful idea it was!
Launched in September 2009, the bakery uses as much seasonal, organic and free-trade ingredients in its delicious creations as possible.  Club members get a different box of home-baked goods delivered to their doorstep each Friday. Goods range from biscotti and scones to brownies, cupcakes and Sicilian treats.
Le Dolci offers three subscription levels – the Mini delivers 4-6 servings each week, the Mezza Luna offers 7-10 servings and the Grande package offers 11 to 15 servings. The subscriptions range from 14 GBP to 30 GBP each week plus delivery.
I can see something like this being offered in busy hubs like Johannesburg and Cape Town. Come on entrepreneurs, get baking!
Reference: Springwise.com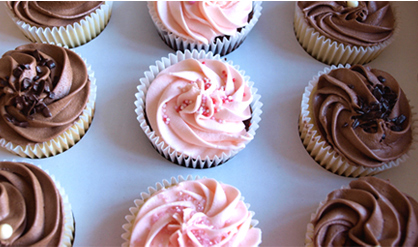 Answer to yesterday's brain game:
The letters A-Z are valued 1-26. In each set, the difference between
the top and bottom values on the left, plus the difference between
the top and bottom values on the right, equals the middle value, so
the mystery letter is G (7).