Oh my soul (as Elzet would say)! I feel like a new person today! No more knots in my back, shoulders and neck. No more dry winter skin. Hands and feet as soft as a baby's bum… Oh yes, I had a full day at a Mangwanani Spa yesterday. Jealous? I would be, if I wasn't me!
Mangwanani Spa offers 11 branches throughout South Africa and has won numerous awards since its inception in 2002. The original idea was born out of personal preference, by Erin Limbert, to establish a retreat where one could be pampered from head to toe and indulge in sheer decadence. The greatest challenge was to market the totally unique concept of an African spa coupled with decadent revitalisation, which has become Mangwanani's trademark today. Erin specifically didn't want to use qualified beauty therapists, but allow previously disadvantaged women from the local communities to be empowered by their natural abilities. And what a wonderful concept this is indeed!
My day kicked off with a delicious healthy breakfast before I had my feet exfoliated with sugar and massaged with grape seed oil. I then moved on to a blissful head, shoulder and neck massage before Joy's strong hands gave me a full body massage with hot stones. I then had lunch (no gooey brownies, Louise, but a piece of tart cheesecake worked even better for me), before being treated to an orange blossom facial (this is when I fell asleep for ten minutes…), a Jacuzzi session, a body cleansing mielie meal rub, cheese and biscuits and a revitalising hand massage. And after all this, I finished the whole day off with a glass of Amarula and a piece of Lindt chocolate, before driving home in a red Mazda MX-5 with the top down – hair blowing in the wind… Unfortunately it's not my MX-5 though, but it was the perfect end to a perfect day all the same.
Almost sounds too good to be true, doesn't it? But this is really how a day at Mangwanani is (apart from the MX-5 part). You definitely get value for your money at this original African day spa – they have excellent specials on throughout the whole year. So go on, treat yourself! You know you deserve it. I know I did. I'm in a great mood now, ready for the weekend – and ready to tackle another hard week's work on Monday as well
By Katrine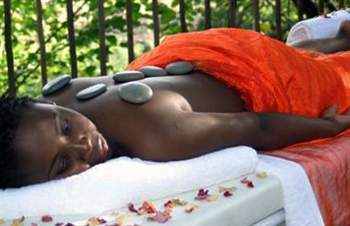 To find the Mangwanani branch closest to you,
visit www.southafricanspas.co.za