Our challenge to you this month is to do Christmas differently this year. The fact that something has worked for you up to now, shouldn't mean that you always have to do it this way. On the contrary – it can be quite liberating to do things differently. C'mon, you can do it!
I admit that it's quite convenient to pop in at Woolies to get that festive-looking tin of snacks as a gift to Aunt Gertrude, but isn't it just so much nicer to receive an unpretentious basket of home-made biscuits with a small gift tag that was made by someone? What I love even more is the way some of the biscuits differ in shape, size and..uhm, consistency.
It says: I care about you enough to spend very precious time to make you something personal. It conveys a message of friendship, closeness and care. And that is what Christmas is about: Love.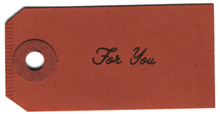 9 Home-made gift ideas:
Bake biscuits, crunchies, rusks or make fudge or coconut ice. Alternatively: A health snack box made up of dried fruit, nuts, crackers etc. Packaging: Use a box, tin, basket or glassware with a big, happy ribbon
Knit Christmas stockings or a comfy pair of bed socks for those rainy stay-in-bed days
Get creative and make your own Christmas paper and gift-tags/cards
For a sentimental touch: Purchase a little box and fill it with inspirational quotes/sayings or verses that will inspire a friend or family member for a whole month (one quote a day) – you can even use decopage to decorate the box
To that special friend: A personal scrapbook filled with memories
Buy inexpensive frames and add your own creative touch
Buy a lovely pot plant and replant it into a pretty pot that you've painted/decorated yourself.
Get your festive behind down to the bead shop and make your own jewellery.
And it doesn't stop here. No! Start a new family Christmas tradition: Do Christmas the South African way!