Every year, I get to celebrate my birthday and wedding anniversary on the same day. That way, it's easier for Jeremy to remember. So last week and weekend, we celebrated! We've been married for two whole years but whenever anybody asks I always append "but we've been together for 9 ½ years" to the end of the sentence. It has the subtext of "Yup, it's solid – I'm a veteran at this!".
So I've been dying to write about this since last week Monday but the problem was that I just didn't know where to start. So I didn't start – for a whole 10 days. But today I thought I would try and purge my thoughts and explain what a beautiful, exciting, fun, relaxing, sumptuous and memorable birthday/anniversary I had. Well there we go I just managed to explain it with 6 adjectives. Maybe I should stop there..
Nah!
I'm definitely not one to celebrate every single one of my birthdays – in fact I tend to shy away from it all quite a lot. But this year, realising that I don't have too much time left in the twenties zone, I decided to celebrate.
Jem really and truly outdid himself this year – he spoilt me like a good husband should. Kidding hah hah, no but he really did totally and utterly spoil me. He took me to Amakhosi Safari Lodge for the weekend, and I really cannot put into words how AMAZING it was, so I'm going to put it into pictures for you:
The first night, we were the only 2 people in the lodge, which meant we had a guide and a tracker and a game-viewing vehicle all to ourselves! We were lucky enough to come across a whole pride of lion within the first hour of our first game drive. You would never have thought this guy was only 1 year old ey?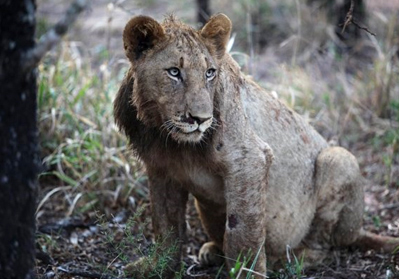 Just before the sun went down, our tracker whipped out a gas griddle and cooked up some amazing kudu kebabs for us. D-E-L-I-C-I-O-U-S.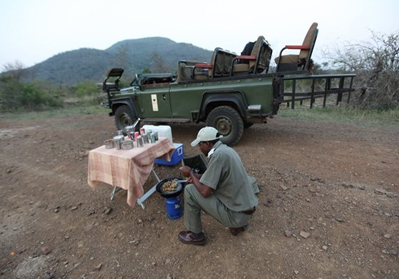 We also saw this young rhino with her mother, they were just hanging out together, chatting about clothes and shoes and girls stuff.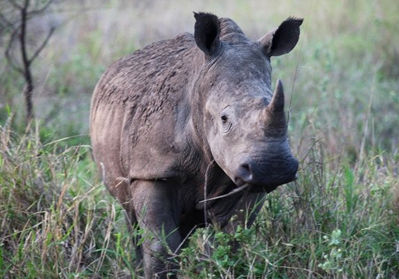 We also bumped into this family of ellies. Only 1 1/2 months old that little one. Such a playful guy, he looked at us as if to say "I would come play but my mommy says I can't".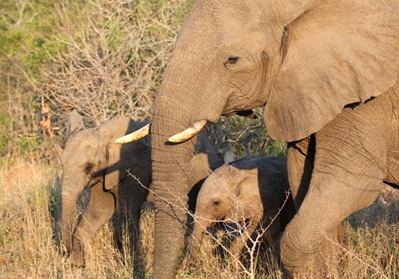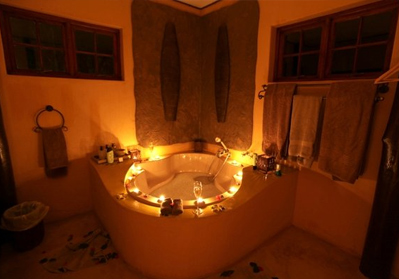 Nope, my man is not that romantic and neither am I. Promise, really! The lodge staff had this waiting for us on our return from a game drive. Bubbles and everything!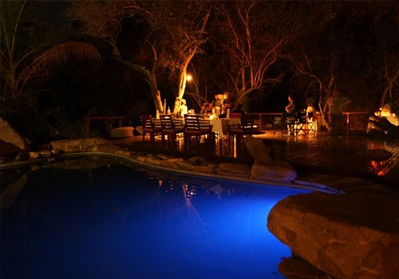 Food. Mmm, we had a lot of that. Breakfast, high-tea, dinner and game drive snacks – too sublime for words!
Lions in the morning mist sauntering down the road…aaaw how beautiful…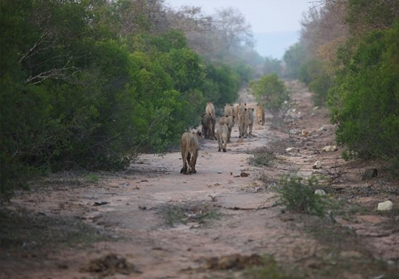 The attention to detail at Amakhosi was incredible, you simply have to experience it…thanks hunni!
Then, on Monday night we had a small dinner at our place for 10 friends…yummy yum yum dinner. Simple but yummy. And I got spoilt all over again, with flowers and orchids and books and earrings and vouchers and more earrings. And Superjerm gave me some pressies, one of which was a new MTB helmet and the other of which I can't tell you. Hee!
And here, well obviously something was really funny and judging from the fuzziness of the picture, I thought it was hysterical too.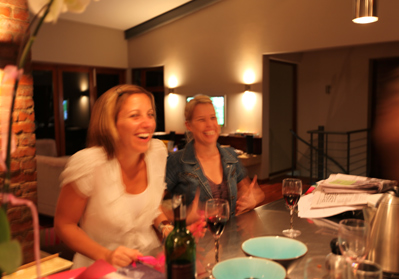 And these are my friends, Di and Ursula, who in true twin fashion, brought the same gift – orchids. Classic! They know how much I love orchids though – they were the only flowers we had at our wedding. The more orchids in our house, the better. I've just got to try not to kill them now.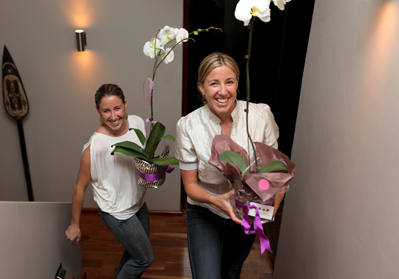 Even Frank presented himself as a fluffy, cuddly present.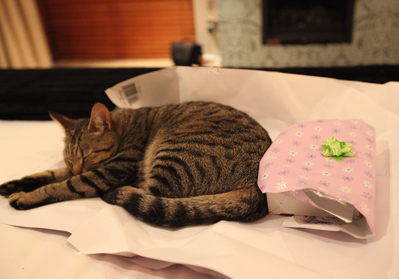 AND:
happy happy to Kerry (one of the Phuthu gals!) who had her bday straight after mine.
happy happy to my special bud, Gina whose bday it is today.
Thanks everybody for all the birthday messages, it was such a fun birthday!
Hunni, thanks for everything, you rock!