Mooi, a fusion of modern South African design and retro style, is part of the EarthMother Organic family and specialises in unique, homegrown fashions and accessories. Business partners Fiona Galetti and Lauren Ann Berry's philosophy is to restore, revive and recycle. Fiona tells us more about how Mooi supports the community and how it has evolved since its inception.
When Lauren's label Tigerlily needed to be moved upwards into a store from Essenwood market, Fiona had just returned from London – having lived and worked there for 11 years. "I needed a creative outlet," she says. "I have always loved old retro design and found Durban and surrounds to be an endless supply of things I loved." This led to the desire to buy old and restore to new and exciting designs. "We are both quite conscious of consumerism and the effect it's having on our planet, which resulted in the recycling restoring element of the store," explains Fiona.
Initial capital was important, but not the be all and end all. "We had found a perfect small venue within and organic food store and café, whose rental included all monthly expenses. We wanted to test the market to our idea before running up too many bills and expenses, and we had a small budget to start with as well as a small space to fill," says Fiona. "Our turnover has constantly increased, thanks to all the support. We have learnt that our formula is a simple but successful one. Our next step is to increase the net profit of the business."
Mooi is all about South African designers, community based projects, charities and retro ware. It all comes together in a fresh space and gives everyone a chance to get their product or brand exposure. "Everyone that comes into the store says they have never seen anything like it, which makes me think it's unique in some way," says Fiona. However she says it's difficult when it's your own creation to view it non-critically, especially when being fairly new to the world of retail. "But we have something for everyone, a price to suit everyone, and we are purely South African."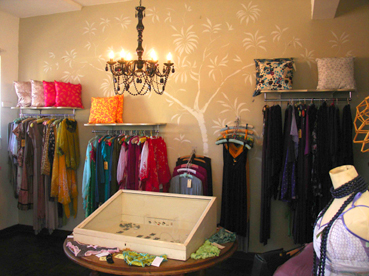 The biggest evolvement since Mooi's inception has been the growth of the supplier base. "We have refined our outlook and desire for the future of the store. We outgrew our first smaller space within six months, so we have recently opened our newest store. This corner store is a lot bigger and has allowed us to really create the look we wanted," says Fiona.
For now Mooi only has one staff member, but a gorgeous one at that. "She was a gorgeous, young student when she first joined us, but fairly shy. Now she is still the same gorgeous, young student, but with an air of confidence – which makes me feel like a proud mum," says Fiona.
Mooi supports a few community based projects and one charity. "This is a side of the business we both feel strongly about and would like to increase. Knowing we support local communities, empower African women and assist them in gaining knowledge and an income, is a very good feeling," says Fiona.
Maintaining a good level of exciting new stock can be challenging for Fiona and Lauren, and financials are always a concern – such as paying all the bills, suppliers and security, and keeping all records up to date. "But seeing the happy faces of the customers when they arrive and leave, makes it worthwhile," says Fiona.
As for becoming successful, Fiona maintains it's important to love what you do and sell. Her best business advice is to follow your dream, but always remember that research is key!
For more info contact Fiona on 072 402 6689 or e-mail fleabagz@hotmail.com