The new South African film My Secret Sky by Directory Madoda Ncayiyana, transformed 11-year old Sobahle Mkhabase, a girl from Chesterville, Durban from being a nobody to walking the red carpet.
The story is about a brother and sister whose mother dies, prompting them to leave their village in rural KwaZulu-Natal for the bright lights of Durban. Fighting to survive on the streets, the young girl played by Sobahle meets an adult she believes will be her benefactor, but turns out to be a pimp. She only narrowly escapes being raped.
Not only did Sobahle's performance won the best actress award at Spain's Tarifa festival as well as the Audience Award but The Secret Sky also won the best feature prize at the Cannes Pan African Film Festival.
There were about 3000 children in and around Durban who auditioned for this role at their local school but Madoda had his eye on Sobahle as she carried a presence. Sobahle wants to pursue acting: "I want to achieve my goal of being an actress and I need to go to school. You can't go anywhere without that education."
To think there is talent like this right on our doorstep! Sounds great – the film name alone will make me go watch this movie.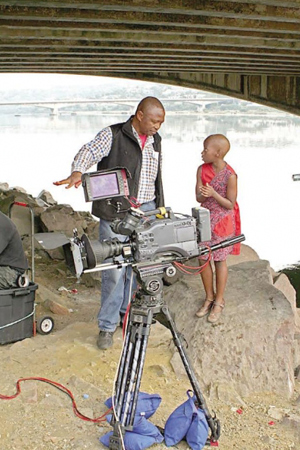 Reference: The Good News
Photo: Durban Film Partnership