Heather Moore designs and produces funky screenprinted textiles which she sells worldwide through her online shop Skinny laMinx, as well as wholesales locally and internationally.

Offering attractive and useful things to be used in the home – such as tea towels, aprons, cushions and bags – Heather also occasionally branches out into ceramics and vinyl decals. More recently she's gone big and started selling her prints by the metre on upholstery fabrics.

Heather says she had been working as an illustrator for quite some time when she realised how bored she was with doing things other people wanted from her. So she finally started putting all her own ideas onto fabric. "There was never an initial concept to start my business, just one day in a studio making a screenprint, and then tiny subsequent steps. It's a business that has grown exceptionally organically. I am not a courageous entrepreneur by any means, so I've only grown and changed when it's been absolutely necessary," she explains.
A while back Heather heard someone coin the term global micro-brand. "I think this describes my business very well. It really is a tiny business, pretty much run by one person, and yet I have a global profile that's growing all the time. One of my tea towels was in the New York Times not long ago!"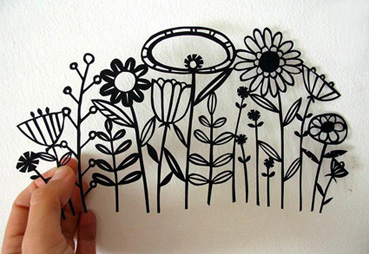 Through her blog Heather has managed to connect with people all over the world, and many of these people have become customers. She hasn't had to do any marketing or self-promotion at all – it has all just happened through the incredibly efficient word-of-mouth that online communication offers. "The online community of people doing similar things to me has been enormously generous and supportive," says Heather. "My business has grown; I'm wholesaling more and more to stores both internationally and locally. And I'm also prepared to take more risks than I was in the beginning."
Recently Heather's taken on an assistant to help her with the admin of wholesaling and production, so that she can have more time to spend on the design side of things. She uses the services of printers down the road, and a seamstress up the road helps her with the sewing. Although time management is challenging, Heather says she has recently started becoming more of a boss to herself. "I'm allocating weekly goals and specific tasks, which seems to be helping."
"I'm so lucky to be able to make things that I like, and that other people like too. The endless flow of positive feedback, via my blog and shop, is very gratifying and encouraging. It's great to have such a personal, friendly relationship with every customer, and it warms my heart when they tell me how much they enjoyed unwrapping the parcel I sent them."
Heather says the secret to Skinny laMinx's success is that she tries her best to only sell things of top quality – using the best materials available. "I've learnt so much about the importance of beautiful packaging and the personal touch, and I think people respond well to this," she says.
And as for being proudly South African; all the fabric Heather prints on is woven at a mill in Cape Town, and all printing and stitching is done within a 1km radius of her studio. "Everything I make says Made in South Africa on it too!"