I only discovered that American Idol was on the Series channel a few weeks ago when MammaZet came into work raving about one of the contestants:
"Oh my gosh, you just have to see this guy Adam sing!"
Thinking that I had missed the most entertaining part of Idols – the auditions of course, I didn't bother watching it on TV, and instead just settled for a weekly run down from MammaZet. The thing  though was that she kept going on and on and on about Adam Lambert and how Adam-azing he was – to the point where she got his "Mad World" performance up on the American Idols site and made the whole office wheel their chairs across the wooden floor to watch him sing from her 22 inch cinema-like screen.
Oh my soul.
Did you hear me, I said, Oh My Soul.
This guy is not good, he is a queen-elvis-led-zeppelin-mix-of-pure-unadulterated-singing-talent-that-has-been-hiding-from-us-for-far-too-long and he is sexy-hot. Gay or not gay, eyeliner or no eyeliner, I don't care, in fact the Vixen-coloured nail polish looks really good on him. Go Revlon!  I mean he's so hot I think he could actually be considered a contributor to global warming. Yes, be warned, he could melt you into a hot little puddle right there on your expensive Wetherlys couch and then you'll have to answer to Al Gore and we all know how inconvenient that would be.
This weekend I watched every single performance of Adams on the Idols website – often rewinding parts of the songs to get the goosies again. I swear I was in a complete Dwaa most of the time -mouth and eyes open in awe. The only time my facial expression metamorphosised was when Adam did his own version of the Elvis-one-sided-lip-raise, and then I just couldn't help but mimic the look back at him. This guy could make even the most saintly, goody two-shoes want to throw lacy apparel at him.  Serious.
And. He can dance. Yes, ladies, he can pull off slick Paula Abdul choreography with ease, exert nonchalant (and non-porno) pelvic thrusts and then to top it off, he can also head bang like a seasoned rocker.
I have hymned his songs in the supermarket, to which I received WTF looks, tried not to hymn his songs during meditation and have driven Jeremy mad with my incessant and hopeless renditions of his Mad World performance.
So all in all this guy is like the Milky Way – he mesmerises you. I wanted to say North Star but then  realised that we are in the Southern Hemisphere. Doh! Milky Way is a better description anyway. And as for the other contestants, well, I really don't mean to be horrible but they have as much celestial quality as flashing police lights in your rear view mirror.  You know what I'm saying?
MammaZet and I want to vote him for president. I can see the campaign poster:
"For an Adam-azing country, vote Adam Lambert" or "There's not a-Dam thing we can't do, vote AL for Adam-azing things."
Rock on Lambo. We Luffs you. MEOW
Check these videos out and tell me this guy is not talented!
Mad World (my best! -  he got a standing ovation from the judges for this one)
Ring of Fire (this one is also amazing)
Adam Lambert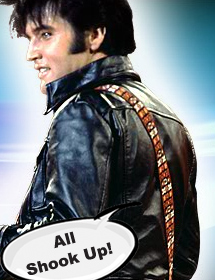 Elvis