Wooooooooo Hoooooooooo! We finished! We can finally tick the Cape Epic check box. It seems so surreal.
So our last day, which was Saturday, was short (60km) but tough. CamelToe clearly had the "turbo engine" whilst I just had, well, an engine. About an hour in, we spotted Paul and Ursula who had started in a batch before us. Needless to say that CamelToe fined tuned the turbo when he spotted them. This was great for me because it meant that I got sporadic pushes up the hills. Heaven!
We got to ride down a mother-of-a-mother climb that we rode up on the first day. Man it was fun. I passed quite a few riders, each time shouting "Overtaking on your right" and then thinking please don't let me wipe out now, you'll look like a real tonsil. Anyway, I got to the bottom in one piece.
I didn't have any falls during the entire race except for the last 5km. I went around a corner, probably got a bit too much front brake and the next thing I knew, I was sniffing gravel. Ugggh. I gave myself an 8/10 for dismount, It could've been more spectacular if I had done an endo or something, but no I just did a side swivel thingie.
It happened in a neutral zone which meant that no one could pass me at that stage so I had to get back on my bike real fast. A cyclist behind me shouted "Rider Down" to warn everyone else to slow down. Am I down? Really? Oh crap I am too. Shoulder intact, collar bone intact, no bleeding, sjoe! But I still got such a fright, I could feel my bottom lip doing one of those jelly-type wobbles that usually precede a tearful saga.  Pull yourself towards yourself demmit!
Then in the semi-emotional state that I was in, I started imagining myself and CamelToe crossing the finish line and the mere thought made me let out a loud, real dorky, gasp. Pull yourself towards yourself demmit! Peddle. CamelToe looked over his shoulder to see where I was and I bravely put on my serious-racing-no-daydreaming-expression. You know that one?
Finally we reached Lourensford. Spectators were cheering along the finish chute as we rode in. The cheers were loud and genuine. Don't ask me how I know what a genuine cheer is, I just do okay!
German commentator, Mike Mike called our names "and hea are my bez friendz zee Camel and zee Toe and zee Hungry and zee Bum, Jeremy and Louise Sanders". As we crossed the finish line we both felt overwhelmed by emotion, a bit choked up.  After 9 months of training, we had achieved our goal. Finally.
For any mountain biker out there, you simply have to do this race. I can't explain everything we experienced, there is just so much to tell, but what I can say is that this was one of the best experiences we've ever had. It's more than we ever thought it would be; the scenery, the people, the atmosphere, the laughs, and the challenge – everything was exceptional.
Thank-you:
CamelToe: I couldn't have asked for a better partner, you rock! xx
Des and Mike: Thanks for shouting for us and for giving us a taste of the campervan life. Thanks Dawg!
Kirk and Colin from Morningside Cycles: Thank-you for sorting out our bikes. Yeti's are the bomb!
Maddie (Physio-in-the-making): What a precious girl you are! Thanks for all the massages and support along route. You worked so hard and yet you were always smiling, you go girl!
Ian: (biokineticist-in-the-making):  The best premium host ever! Nothing was too much for you, you were professional, hard working and had an awesome attitude to the whole event. Good luck with the studies and we hope to see you doing the Epic some time!
G.I and Trav: Thanks for the Toyota VIP access guys! And Trav..well done on your first mtb race.
And to all our friends for the sms's and phone calls.
This is sounding way too "Oscar"
Well Done:
Binks, Mylo, CamelToe, Pinkie and Paul M, Ursh and Paul P, Grandma and Jesse Boy, Gary Green and Partner and everyone else who finished!
Official ABSA Cape Epic Results can be found here
Sportograf – Official Cape Epic Photographers and Your Cape Epic Photos
I'll leave you with the "Putt your handz up in za aire" song (our favourite at the start line)

…but this is the official ABSA Cape Epic 2009 song by ACDC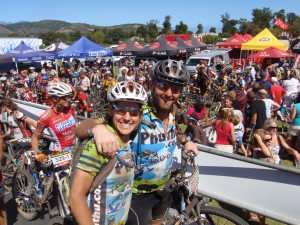 In line to receive our medals
Maddie – Our Physio Angel!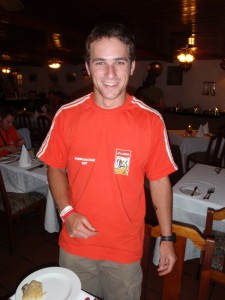 Ian – The Best Premiun Host Ever