Now today's stage is was what I call real mountain biking. Rated as the most technical stage of the race, we loved every minute, from start to finish. Our start wasn't great though – we were the last out of our batch purely because we were too busy enjoying the "Putt your handz up in za aire" song which was playing at the start. Got to get that CD. I was also blessed with the "turbo engine" today (to my utter amazement) but when you get the engine then you gotta drive it, which I did. CamelToe was so proud of me….shweeeet thing.So tomorrow is the last day of this epic race and although it's great to see the end in sight, in a strange way we're sad that it's ending. This race is awesome and we'll miss the people and the vibe…
CamelToe, as always, took some awesome pics today.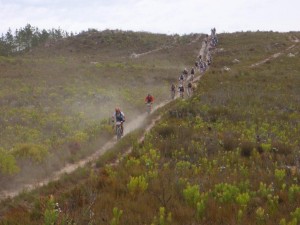 Fun descent.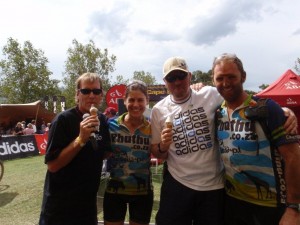 Happy snap with Mike Mike.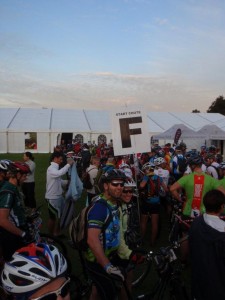 Chilling at the start chute.
Commentator ,Mike Mike dancing to the music in the morning, getting everyone all pumped!
What a pic!