We thought yesterdays last 3 km were mean. Well, we were wrong – that seemed easy in comparison to todays final 30km. The hills were relentless. Although we were only out there for 7 hours it felt much longer, more like 9 hours. I think both of us experienced more of a mental tiredness than physical fatigue. CamelToe ran out of water about 5km from the end and then I ran out at 2km to go so that didn't help things and it was baking hot.  I had sweat running off my arms.. at one point I thought it looked kinda sexy but then I felt my nostrils caked with sand so that put an end to that…
 
Way too much sharing, sorry.
 
So although we curse about the unrelenting hill climbs, CamelToe and I remind ourselves every now and then that the Epic is actually not hard in the real sense of the word. We did sign up for it after all and when you think of people, like those who we saw today working in the blistering sun repairing railway lines, you realise what hard is. Living below the poverty line is hard, being homeless is hard, losing a child is hard, the Epic is merely physically challenging at times. 
 
Getting sentimental… moving on.
 
5 Days down, 2 to go!
 
Time to get some sleep.. zzzz
How pretty is this photo?!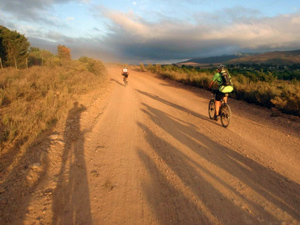 Another beautiful morning.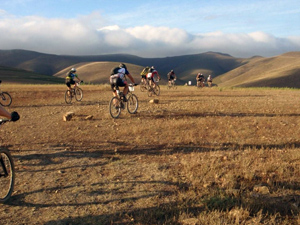 Getting warmed up for the mountains ahead.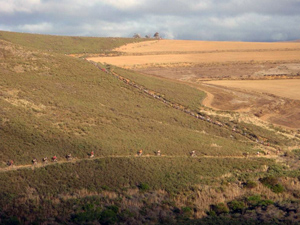 Cyclists snaking up the mountain. Eish!