The best thing about today was actually getting started! The prologue was surprisingly easy, especially since we haven't done anything for the past two weeks except eat easter eggs and more easter eggs. Not kidding.
We had an absolute jol. I've discovered that arming my husband with a camera is like giving a baby its bottle. It keeps him happy. So much so in fact that it distracts him from setting any kind of cracking pace. Genius.
Parts of the mountain were still smouldering – we saw a few firefighters heading up in the morning obviously just as a safety check.  The views from the Cable Station road were spectacular but the paths were quite technical in that there were alot of loose rocks and sharp turns. Ursula had a nasty crash and shed some blood on them stones but was uber brave and took it in her stride.
So tomorrow is the real start of this Epic race. Can't wait to get going.
P.S Does anyone have a razor? CamelToe is starting to look like Bin Laden!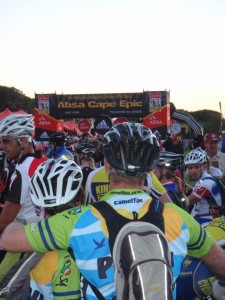 CamelToe and HungryBum waiting in the start shute!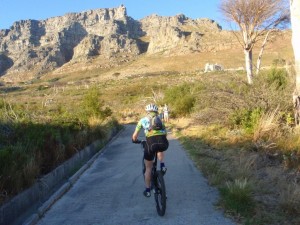 HungryBum going up the Mountain…..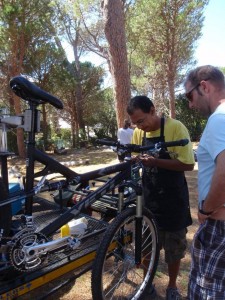 SRAM dude doing some maintenance on my bikey, CamelToe inspecting closely.