Once upon a time…

…James Bhemgee (now 45) and his big voice was sweeping streets in the hope that someone will 'spot' him and have a heart . A certain someone did. Widow, Angelique Fuhr (83) overheard him singing on the job and gave him something that changed his life forever:  She sponsored his first singing lessons and convinced Young and Rubicam to sponsor his studies further.  He got the break he wanted. It's easy to read this and think: Yeah, that's real nice of her. But let me tell you, this is way more than 'nice'. How many of us will actually stop to give someone – a street sweeper! – the time of day? Especially if it involves your bank balance.
Aaaanyway, he eventually studied, moved to the UK and appeared on Breakfast News where one thing led to another and he moved to the United States.
He made his comeback on SA's got Talent recently. His talent and humble attitude won him votes and the hearts of many a viewer. James told TVSA that he's going to take his quarter of a million rand and buy himself a house. Hope this is not the end of him…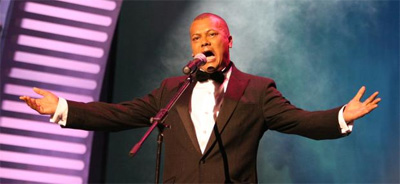 This is stuff dreams (and documentaries)  are made of, don't you think?