Superjerm has done a million dusi's. That's how we met actually. Little 18-year old me was so eager to paddle down rivers and balance in a boat that my very dedicated mom drove me to Blue Lagoon 3 days a week, come rain or shine.
My future husband obviously saw me there all the time and one afternoon before a dice, asked me to do the DUSI with him. In my head it was like:
Oh my goodness, JEREMY SANDERS, wants to do the DUSI with ME! With me? Yes, with….me! Holy Moly. Holy Cow! With….me! YEEEEEEHAAAA!
Being 18 at the time, I desperately tried not to sound over-excited and gave a very civilised, neutral response: "cool, let me think about it and I'll get back to you".
HaHa…ego!
We've done a lot of dusi's together since then (the exact number eludes me right now, 5? 6?) and then in 2005 I managed to do it on my own. Obviously I wasn't thinking straight at the time which I know happens quite a lot but Superjerm was there to escort me down the river, making sure I didn't swallow too much water or die of fright.
And now after a 3 year break, we're ready to hit it again, ecoli and all.
So on Saturday, we halued out our canoes, dusted them off and went for a paddle around Shongweni dam.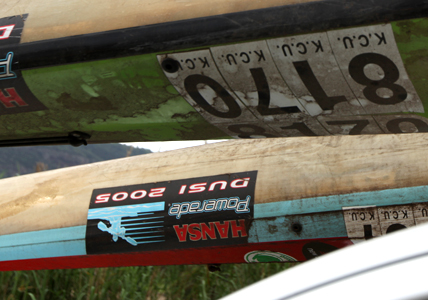 I wasn't joking when I said it was time to dust off them boats.
Oooh my what big muscles you have Superjerm…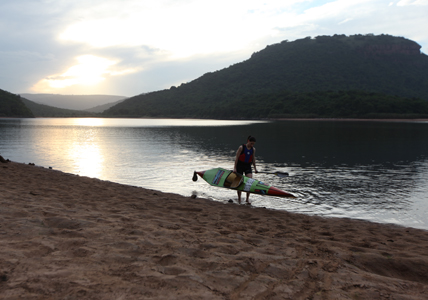 Two laps around the dam was just about enough time to make my butt numb.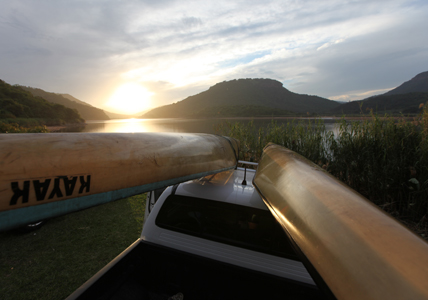 We had to endure this terrible, awful, miserable sunset. No one said it was easy living in Africa.
Answer to yesterday's brain game:
See-through blouse
I understand you underake to undermine my undertaking