KwaZulu-Natal is home to one of the world's premier butterfly centres – namely Butterflies for Africa outside Pietermaritzburg. This is a delightful place words simply don't do justice, so you have to visit and experience the magic for yourself.
A spectacular walk-through Butterfly House allow you to admire brightly coloured butterflies from all over the world flying freely around you. The sounds of quails and finches, cascading waterfalls and gentle streams add to the magic. Green iguanas Smeagol and Deagol can also be found in the Butterfly House, and the same goes for a whole bunch of fascinating stick insects.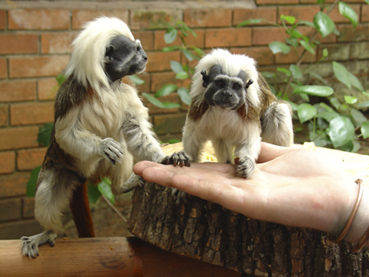 Apart from the Butterfly House there's also a lovely garden and nursery, the Painted Lady Coffee Bar, the Butterfly Shop and a Monkey Enclosure where visitors can interact with Cotton-top Tamarin monkeys – charming and friendly little chaps. The Butterflies of Africa website explains that Cotton-top Tamarins live naturally only in Colombia in northern South America. They are one of the most endangered primates in the world, owing to the clearing of their forest habitat (more than three quarters of their original habitat has been deforested) and population depletion from animal trade. Currently there are more of these monkeys in captivity than the 2 000 to 3 000 Cotton-top Tamarins existing in the wild. And this population unfortunately continues to decline.
At Butterflies for Africa there's also the Blue Caterpillar Art Gallery – a spacious showcase for local artists offering a wide range of tastefully presented artwork – and an African art centre with quality ethnic crafts. An education centre and function rooms are also available.
Ticket Prices
Adults: R28
Children (16 and under): R18
Pensioners: R18
Other Info
Entrance to the monkey enclosure at feeding times is R11
Butterfly House tickets include an audio-visual show
Guides are available in the butterfly house at no extra charge

Tel: 033 387 1356
Adr: 37 Willowton Road, just off the N3 in PMB