Okay so are you looking for something fun and adventurous to do over New Years? Keen for a bit of fun under the African Sun? Then why not come and do the Orange River trip with Superjerm and me? Oh it'll be so much fun! We've been wanting to do this for ages as we've heard so much about it and so we're heading there in December to do the New Years trip. You can do it too – It's definitely not a big white water trip but more of a wilderness experience with incredible scenery (like Ritchie Falls).  The tour is run by Gravity Adventure Group and the tour is 4 days and 5 nights, you arrive on the 27th Dec and leave on the 1st Jan.
Read their description of the tour below, sounds awesome. Let me know if you are keen and I will send you the info see! The price is R3095 per person and includes:
All of your meals, from the evening of your arrival, to a light breakfast on the morning of your departure, camping at base camp on your first and last nights, 4 full days and 3 nights on river, qualified and experienced guides, all boating and safety equipment and no, you don't have to bring your own loo paper!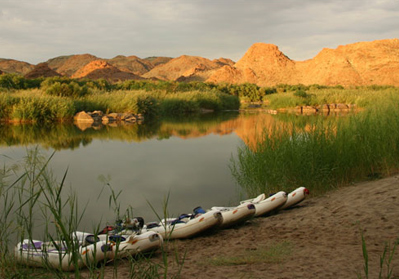 Difficulty grading: 2-4 (easy to challenging)
Length: 3-10 days (standard trip – 4 days)
Season: All year
Length of drive from Cape Town: +/- 9 hours
Length of drive from JHB: +/- 10 hours
Starting near Pofadder in the Northern Cape, this section of the river offers a variety of conditions, from flat water to flowing channels, lots of exciting small rapids and a few 'Big Ones' to get the adrenaline flowing. At high water it becomes an exciting whitewater trip. The trip may also include abseiling for those keen to give it a try. We use inflatable two person boats that are easy to paddle and steer. We also have rafts that are very stable and perfect for less confident paddlers (dependent on water level).
We cover just over 30kms during the trip so there is ample time to relax, read your book or explore the camp surroundings. Each trip is run as a self-contained expedition – we carry everything we need and take everything back out again at the end. We make our way down river, choosing a different campsite each night. All you need to provide is your personal gear and drinks of your choice. All meals are included, as are qualified guides, groundsheets, boating and safety equipment and abseiling (4 day trip only and only possible if your guide is qualified).
On the evening before your trip begins, you will be welcomed to the Gravity base camp by your guides. Relax and enjoy the view over the river or have a drink at the bar. You'll enjoy a light supper under the starry night sky around the campfire. Next morning, after a hearty breakfast, your guides will give you advice on how best to pack your drybags for your trip down river. Before getting on the water you'll also have a thorough safety briefing and some paddling instruction.  Then, it's time to get going for four days of relaxation and excitement! The first day's paddling consists mainly of flowing channels and flat water. Day 2 brings bigger rapids and an evening walk to view the amazing Ritchie Falls. Day 3 is full of excitement with a challenging portage around the Falls, abseiling and '42 man hole', 'Big Bunny' and 'Dolly Parton' rapids. As you leave the gorge on day 4, things mellow out once again and the last section is just gentle drifting. The group will be met at the take-out after lunch and transported back to base camp to enjoy a final meal around the campfire. (Above itinerary may change slightly according to trip, season and water level).