I just want to cry when I see logos that have been designed using Clipart and Word. Some things are best left to professional graphic designers and logo design is most definitely one of them. For the uninformed, Clipart consists of those little hand drawn pictures which usually have the effect of being painted with watercolours. Now although clipart images have improved over the years, clipart is still clipart! Your logo represents a business image and speaks volumes so make sure that your business is perceived in a professional light and get your logo designed professionally. Yes it will cost you extra but believe me it's worth it in the long run.
If you are desperate to design the logo yourself, whatever you do, stay away from clipart images – you can purchase high quality photos or illustrations from an online image library such as iStock or Getty Images.
Below I have designed two logos using clipart and then an "after" version without the clipart.  Can you see the difference? Please say you can see the difference!
Last Minute Holidays – Before

Last Minute Holidays – After


AfriLurv – Before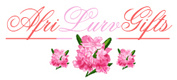 AfriLurv – After